Life Saving Skills You Can Learn First Aid Training
First aid training can supply you with potentially life saving skills. You could be the difference that helps to keep someone alive until the emergency services arrive.
Take a look below at some basic life saving first aid techniques that you can learn through training with 3B.
How To Administer CPR & AED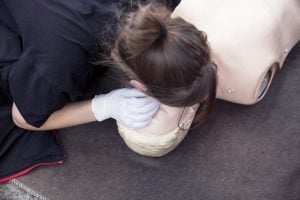 If you find a casualty who has collapsed and has stopped (or has irregular) breathing you will need to administer CPR. Basic CRP and AED is part of the course content of almost all of our First Aid Courses. The Emergency First Aid, First Aid at Work & First Aid Requalification will all teach you how to preserve a life through CPR on a casualty.
The Paediatric First Aid course will specifically go over how to conduct CPR on a bay or child (this is also briefly covered in the above courses).  We also provide a course specifically on how to use the AED defibrillator.
A casualty may become unresponsive in a variety of ways such as from cardiac arrest, a seizure or from shock, to name a few. Therefore, CPR is an important life saving skill to have.
Treating Heavy or Catastrophic Bleeding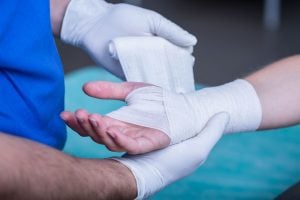 If someone is bleeding heavily it is important that you act on this before they lose a fatal amount of blood. The First Aid at Work, First Aid Requalification &  Emergency First Aid courses will all teach you how to respond to this. You will learn all about how to effectively apply pressure to a wound and what can be used to slow the bleeding.
How To Save Someone Who Is Choking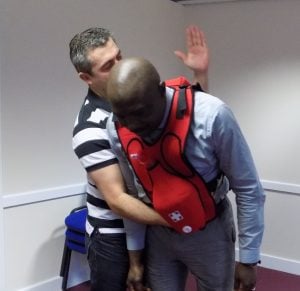 The above first aid courses will not just teach you how to save someone who is choking but recognize the signs in the first place so that you can act quickly. First aid training can teach you life saving skills such as; the Heimlich manoeuvere (or abdominal thrusts) and how to correctly apply a back blow.
Treating a Burn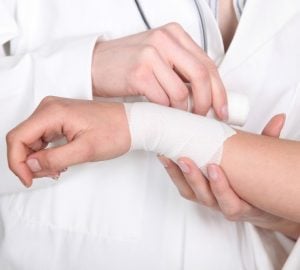 By treating a burn correctly you can save yourself or another person from further pain or scarring. The First Aid Requalification, Emergency First Aid & First Aid at Work will teach you how to deal with minor and more serious burns. Although the Paediatric First Aid course covers how to treat burns on babies and children; no matter how serious you should seek medical attention.
Treating Mental Health Issues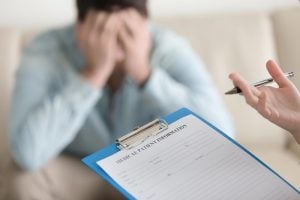 Mental health problems can be equally dangerous to a person than physical ill health. By becoming a mental health first aider you will gain skills that could be potentially life saving. The Mental Health First Aid course will teach you how to protect those who are at harm to themselves and guide them to the relevant support.
Take a look at all the First Aid Courses available with 3B Training here.
How to Complete an Accident Report Form
Take a look at our guide on how to complete an accident report from fully and correctly here.
Back to News
View Our Courses