Courses for the Catering Industry
Are you looking for a career in catering?
3B Training offers a range of courses that can help to bolster your CV and advance in the catering industry.
Food Safety
To be able to work with food in any way you will need some level of food safety or food hygiene qualification. 3B Training offers Food Safety at both Level 1 and Level 2; take a look below at the knowledge you will pick up from attending each course.
Food Safety – Level 1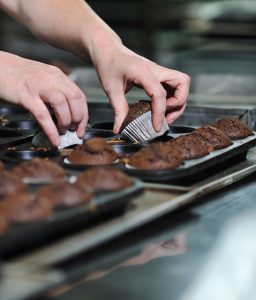 This course will educate the delegate on basic food handling. If you work in the catering industry in a low-risk environment, this is the course for you. The course will go over personal hygiene, cleaning the workspace, keeping food from contamination and your responsibilities when it comes to handling food.
Food Safety – Level 2
This course goes into more detail about food handling in catering than the Level 1 course. If you are going to be working in a catering environment which is higher risk and you are handling food open this is the course for you.
Working in catering can be physically demanding; you may be required to lift objects such as crates of food or push food racks on a regular basis. Doing these activities incorrectly on a regular basis can open the door to a range of musculoskeletal disorders. By attending a Manual Handling course, you will gain the relevant knowledge to be able to conduct these activities safely and know when it is acceptable to refuse to do an activity if it is unsafe.
Working in a kitchen can be very dangerous and the possibility of a fire from food preparation or an electrical fault is quite high. By having this qualification, you will know how to safely tackle a small fire by using the correct extinguisher or extinguishing method if you need to.
In a catering environment you at risk of a whole range of injuries. A First Aid course with 3B Training will teach you how to treat the below injuries that can occur when working in a catering environment.
Burns and scalds
Hot surfaces
Boiling / hot water and other liquids
Hot food
Not using correct PPE: chilli pepper burns
Slip and Trip injuries caused by; spillages and trip hazards
Fractures
Back injuries
Bruises and swelling
Concussion
Cuts and lacerations caused by knife accidents or other utensils
Machinery accidents; such as blender cuts
Eye irritation and infection from rubbing eyes when preparing food or grease splatter
If you would like more information on the above courses, contact us here or email t[email protected] to speak to one of our Training Advisors.
Food Safety: What Are My Responsibilities?
If you or your company works with food at all in its day to day activities you need to make sure you are following the food safety rules. Find out more here.
Back to News
View Our Courses