The 12 Days of Christmas Safety | 2022
On the 12 Days of Christmas, my true love gave to me…
12 tips on health & safety! Take a look below at 12 days of tips on how to stay safe this Christmas.

1. Candles
Be careful when lighting candles this time of year. The increase in clutter and decorations creates an extra fire hazard in the home.
2. Pet Safety
Everyone knows when the festive season arrives out intake of chocolate goes up; make sure you keep them out the way of your pets. Anything containing xylitol can be poisonous to your pet. Also, leftover rappers can cause your pet to become ill if they decide to eat them.
3. Fireplace
Keep your tree away from heat sources and fireplaces. A real tree can get really dry and to go up in flames very quickly.
4. Stable Christmas Tree
When putting up your tree ensure that it is on a stable base. You don't want your tree to fall over and cause an injury or fire.
5. Artificial Tree
When choosing an artificial tree, choose carefully. Check the label to make sure that it is flame resistant to eliminate the hazard of a potential fire.
6. Real Tree
Unwatered Christmas trees can get very dry, this makes them a huge fire hazard. A small spark from a faulty light can cause a tree to go up in flames in seconds. Keep your trees watered to avoid potential injuries or fatalities.
7. Fairy Lights
Keep tabs on how old your Christmas lights are and if they are in good condition. The newer the light, the higher the safety standard will be. Like candles make sure that they are off when you leave the house or go to bed. When putting up your fairy lights make sure you check them for any potential hazards. Check the wires for fraying, any bare spots in the wire and kinks in the line.
8. Decorations
Before you leave a room, turn off your tree and decoration lights when they aren't being used.
9. Ladder Safety
Be smart when putting up decorations in high up places. Use a stepladder or ladder and inspect it beforehand.
10. Drink Driving
In the December period, it is no myth that people like to have a few more drinks than usual when visiting family and friends. It's simple…don't drink and drive. If you are out and about visiting people and happen to have a few drinks, leave the car there until the morning. Another option is to designate a sober driver.
11. Christmas Dinner
When preparing your Christmas dinner make sure you think about food hygiene. Thoroughly wash your surfaces and utensils after cooking with raw meat.
12. Leftovers
If you decide to reheat your leftovers the next day make sure you reheat them properly. 74 degrees Celsius is the minimum temperature your reheated food should be.
More Christmas Safety Tips
Christmas is a busy time of year for us all, but it also is for A&E. Thousands of people every year are involved in Christmas related accidents around the home over the festive period.
Here is some more advice on how to stay safe this Christmas.
Toys and Present Safety
Falls are the most common kind of accident in the home, now imagine how much the likelihood of one rises when the clutter of presents is added to the equation. Keep walkways and stairwells clear and well lit, this needs to especially be taken into care if you are likely to have a lot of guests over Christmas.
When buying toys, make sure you check the packaging thoroughly to ensure that they are age-appropriate. Keep an eye out for any small parts that could cause a child to choke. In order to assure that it meets the legal standard, make shows that on the packaging. When opening presents, make sure you don't cut corners. Use scissors rather than using anything that is available such as a knife.
Christmas Tree and Decorations Safety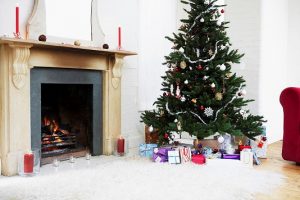 Decorations and novelty items are not toys, they don't have to follow toy safety regulations or show any age certification. Keep them away from young children as they may have dangerous parts on them. Why not place them on high shelves and units or high up on the Christmas tree.
Be wary of where you place your decorations, keep them away from strong sources of electricity, light fittings and fires. If any of your decoration involves candles, make sure you put them out before going to bed or leaving the house and never put them on your Christmas tree.
Christmas Dinner
The additional hustle and bustle that comes with Christmas in your household can make the kitchen a much more dangerous place. It is important to be safety conscious throughout the day to prevent any accidents. Try not to rush around and keep people in the kitchen to a bare minimum to avoid spill, slips, trip, burns or cuts from food or cooking equipment.
For more information take a look at our blog on the Top 3 Most Common Accidents in the Kitchen so that you can avoid them in the future.
Back to News
View Our Courses