5 Most Common Office Injuries and How to Avoid Them?
You wouldn't consider the office to be a dangerous place, however, the odds of you getting injuries are still quite high.
As the employer it is up to you to keep your workforce safe; although office injuries can easily be prevented they are still a common occurrence. Take a look below at the top 5 most common office injuries and how you can prevent them.
Trip, Slips and Falls
Falling in the workplace are the biggest cause of accidents. Statistically, office workers are more than two times as likely to be hurt from a trip or slip at work than any other workplace.
The office is full of potentially dangerous obstacles that are created from carelessness in the workplace. Boxes, open drawers, loose wires and loose flooring can all be causes of a trip. Unlabelled wet floors, using chairs rather than ladders and broken chairs can also lead to a fall in the office.
To prevent such events make sure that all walkways are clear, loose carpets and wires are fixed, wet floor signs are provided when needed and you use a ladder instead of a chair when appropriate. It is advised to attend an IOSH Working Safely course to help improve the attitude to health and safety in the office.
Incorrect Manual Handling Injuries
In most circumstances, you should not be required to lift heavy objects in an office based role. However, because this is often an infrequent occurrence people are often not trained on how to lift correctly and so end up injured.
To prevent future musculoskeletal injuries you should attend a Manual Handling course. The course will help to improve your manoeuvring techniques and teach you how to assess a load before lifting.
Ergonomic Injuries
Although they may not be instant, long-term injuries can be caused by a badly set out workstation. It is important that you or someone in your organisation conducts a DSE Assessment. They must consider the following to avoid problems with posture, eyestrain, hands and skeleton:
Are you sitting correctly? You need to make sure your back is supported, your feet are flat and that your thighs are horizontal.
Your chair height needs to be at a level so that your arms are at 90 degrees and your wrists are horizontal.
Your computer monitor must be adjusted so that your eye line is level to the top of your screen.
Make sure your screen text is large enough and there is no glare on your screen to avoid eye strain.
Don't be afraid to take a break from your desk to rest your eyes and get up to stretch; this will help avoid any repetitive strain injuries.
Head Injuries
Obviously, you are not going to wear a hard hat in the office so you need to make sure you are not in danger of being hit by a falling object. The office isn't as safe as it may seem so make sure you are especially aware when walking around heavily congested areas and that you watch where you are walking. Avoid placing objects on the top of cupboards or stacking objects too high in order to lower any risks. Try purchasing some proper storage cabinets and put all the heavy objects on the lower shelves for example.
Hot Liquid Injuries
It is well renowned that office workers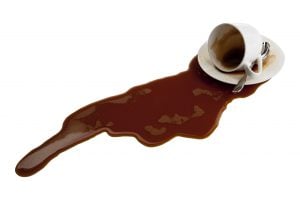 love a brew. So much tea & coffee is consumed, that the likelihood of a second-degree burn gets higher and higher. Try to avoid carrying multiple cups and keep your soup sealed to avoid the possibility of a very painful burn.
If you're responsible for avoiding or dealing with accidents in your workplace you should consider attending the IOSH Managing Safely course.
Top Health & Safety Training Courses for Office Workers
Here are some beneficial courses that we offer that can help make the office a safer place. Read more here.
Back to News
View Our Courses