Bonfire Night: Looking After Your Pet
Bonfire Night can be a very unsettling time for your pet.
Take a look at some helpful tips on how to keep your furry friends happy over Bonfire Night…or any other time when fireworks are going off.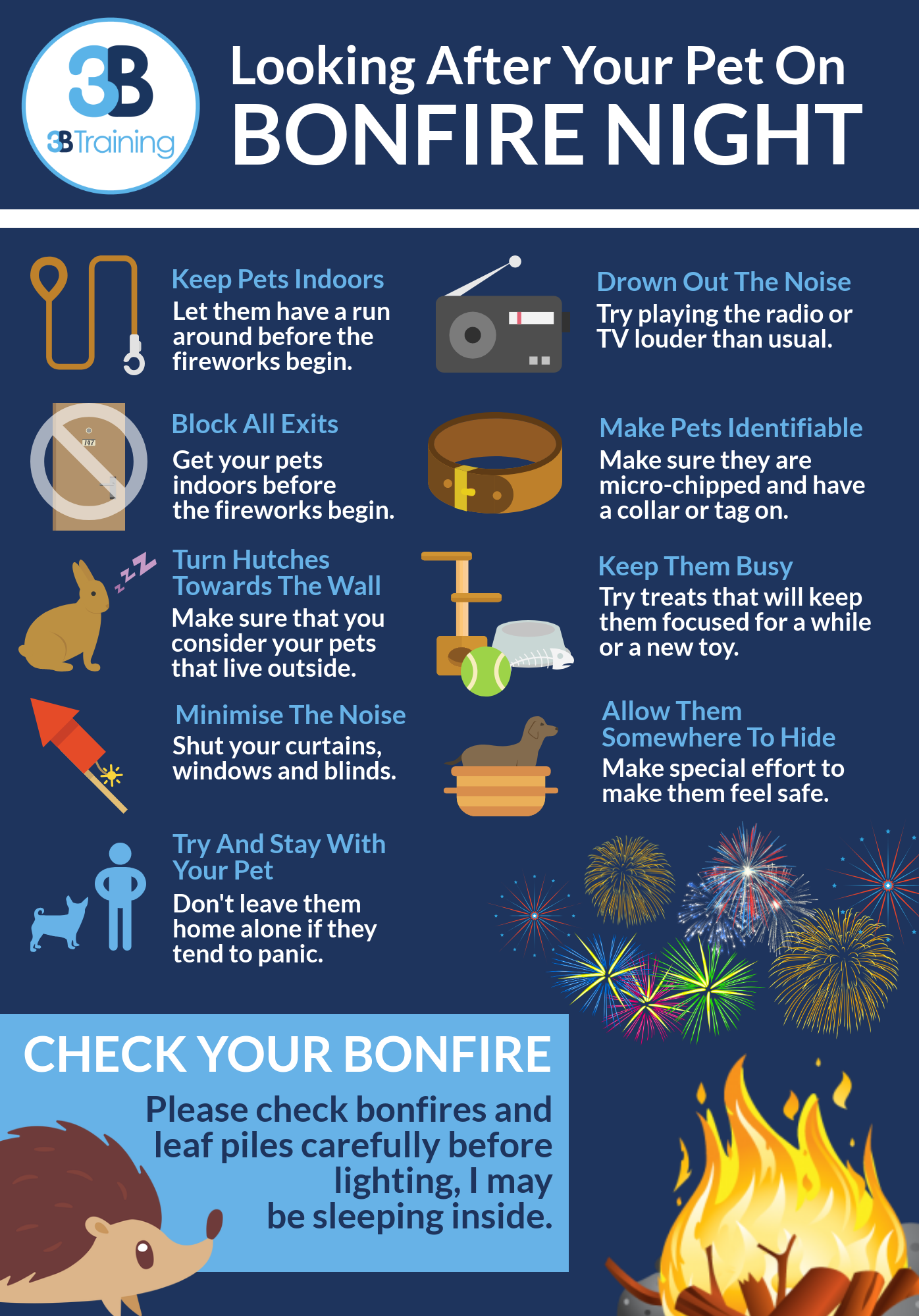 Keep Your Pet Indoors
It isn't advised to let your pet outside if they are scared of fireworks. The loud noises could cause them a lot of distress. They could run into danger such as a busy road or even run away from home.
The best way to keep them happy is to make sure they've had plenty of exercise and have been to the toilet before you keep them indoors.
Block All Exits
If your kitty generally likes to roam, make a conscious effort to get them indoors before it gets dark. To stop them from getting out, make sure you have closed all your windows and doors and blocked the cat flap.
Turn Hutches Towards The Wall
If you have a pet who lives outside like rabbits or guinea pigs, turn their hutch towards the wall to keep the noise out. You can also cover the hutch with a blanket to minimise the sound even more. If possible, bring the animal inside for the evening.
Minimise The Noise
Try an minimise the noise as much as possible for your indoor pets as well. By closing the blinds and windows you are cutting out the loud noises and flashing lights.
Try And Stay With Your Pet / Keep Them Busy
Avoid making any plans to leave the house if you have a pet whos scared of fireworks. Rather than over comforting your pet, distract them with a new toy or some treats.
Allow Your Pets Somewhere To Hide
Make sure your pet has somewhere to go to feel safe and secure. This might be somewhere good to hide like under a bed or table or a nice padded bed.
Drown Out The Noise
Turn the TV up louder than usual or play the radio. This will help cover the noise of fireworks.
Make Pets Identifiable
Fireworks can lead to animals running away and getting lost. Ensure that they are microchipped and are also wearing some easily readable identification.
Bonfire Night Safety
Take a look at our guide on keeping safe around open fires and fireworks here.
Back to News
View Our Courses