Flood Risks: How To Deal With Them
Flood risks in your home aren't something you want to be thinking about.
However, flood risks are an important issue we need to be aware of.
So, what can you do if you are in a location where there are flood risks?
Preparing for a flood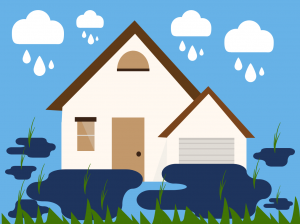 You can prepare you and your family by signing up to receive flood warnings here and it's also important to create a personal flood plan. Doing this will ensure you are prepared and ready in case of an emergency.
Having temporary flood protection equipment available to use is another important step. For example; sandbags and flood boards. You should also disconnect the likes of dishwashers and washing machines or any equipment that uses water.
If you are aware that water is about to enter your home, you should switch off any gas, electricity or water at the mains.
During a flood
If you are told to evacuate your home by the emergency services during a flood, you should do so and you should only return if you have been told it is safe to.
Did you know that 2 feet of water is enough to move a car and 6 inches of fast-flowing water is enough to knock over an adult?
After a flood
Before entering your home after there has been a flood, you must make sure that it is safe to do so. Get a professional out to check whether there has been any damage to any electrical or gas supplies before turning them back on. You must also avoid any electrical wires that are exposed.
To avoid contact with contaminated water when you are cleaning up, you should wear rubber gloves, boots and goggles. You should also sanitise all items that came into contact with the flood with one cap full of bleach to a gallon of water.
Top Tips for Staying Safe in the Sun
In case we get some sunshine instead of rain,  make sure you take a look at our top tips that will help to keep you safe in the sun here.
Back to News
View Our Courses