Toolbox Talks: Topics For Mental Health
Toolbox talks are very beneficial if you get them right and conduct them regularly.
Discussing and being aware of mental health in the workplace is extremely important, especially as a Mental Health First Aider. So, why not put together a Mental Health Toolbox Talk for your employees?
Take a look at some topics below which you could follow if you were to conduct a Mental Health Toolbox Talk.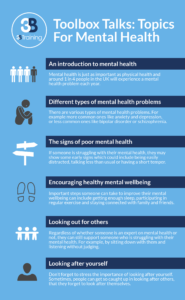 An introduction to mental health
Everyone has 'mental health', and it is important we look after it just as much as we look after our physical health. Did you know that around 1 in 4 people in the UK will experience a mental health problem each year?
Different types of mental health problems
There are various types of mental health problems that people suffer with. Some that you might know more about than others. For example, more common ones like anxiety and depression, or less common ones like bipolar disorder or schizophrenia.
Take a look at the many different types of mental health problems here.
The signs of poor mental health
When someone is struggling with their mental health, you may notice them acting differently to normal. These may be early signs, and it is important to know what to look out for. Signs could include them being easily distracted, having a short temper, talking less and avoiding being social in or outside of work.
Take a look at some tips on spotting the signs of anxiety here.
Encouraging healthy mental wellbeing
Promoting healthy mental wellbeing within the workplace could be a good start to get everyone talking about how they're feeling. Important steps to healthy mental wellbeing can include getting enough sleep, participating in regular exercise and staying in contact with family and friends.
Looking out for others
You don't have to be a mental health expert to support someone who is struggling with their mental health. Why not look out for them by sitting down with them and listening to what they have to say without judging? Keeping your questions open-ended can also help to gain a better understanding of how someone's feeling.
Please find out more about how to talk to someone about their mental health here.
Looking after yourself
Make sure you stress the importance of looking after yourself. Sometimes, people can get so caught up in looking after others that they forget to look after themselves.
If anyone ever needs someone to talk to about their mental health, they can call Samaritan's for help any day at any time. Find out more here.
Back to News
View Our Courses