Top Tips For Working From Home
Working from home is now becoming a normal part of life and due to its financial and logistical benefits, it may carry on into the future for many businesses.
For some people working from home may be pretty alien and therefore difficult. Take a look at some top tips on how to manage working from home.
Maintaining a Work-Life Balance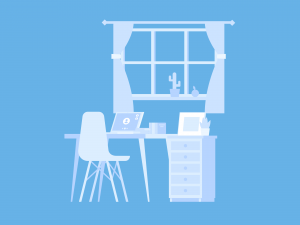 Like you would in the office, stick to a set work hours schedule. Avoid extending your working day because it's tempting just to check your emails or do a few hours from your bed.
Make sure you also stick to the breaks that you would normally have if you worked from the office. Enjoy your short coffee break and have your lunch away from your desk. Don't short change yourself because you are entitled to them.
Communication is Key Whilst Working From Home
Working from home requires you to communicate more than normal. Little details that can be mentioned as passing comments in the office won't get shared unless you do. Let people know where you are and when you aren't working. Make sure you keep everyone updated with changes.
Stick To Your Usual Morning Routine
It is important to feel motivated when it comes to starting work. Have a shower and make a cup of coffee like you usually would. Why not even get dressed rather than slipping onto your office chair straight from your bed?
Keep Socialising With Colleagues
Working at home can cause you to feel disconnected and missing the office "banter". Make sure you regularly catch up with your team, whether it be via video call or intranet chat. It's important to continue to nurture relationships and keep internal morale up.
Have a Separate Phone for Work
To avoid work and homelife intertwining too much ask for a separate work phone. That way clients and colleagues cant contact you in your time as you can simply turn it off outside of work hours.
Make Sure Your Working From Home Set-Up is Right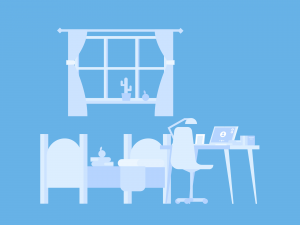 To ensure that you are working from home at your best ability make sure you request all the equipment you need. Make sure your desk and chair are comfortable and following DSE guidelines. Do you have the right monitor, keyboard, mouse, chair or printer? Do you have easy access to the company server?
Don't Be Afraid To Take Holidays
Just because you're at home it doesn't mean the days aren't just as tiring as they are in the office. Don't overwork yourself into the ground.
Have a Dedicated Office Space
It can be difficult to work from home in the thick of family life especially if you don't have your office room. Maybe set out rules with people who live with you to help separate them from your space. Try and separate yourself from housework that is going or taking care of pets; you wouldn't be doing that in the office.
Keep it Positive Whilst Working From Home
It can be difficult working on your own, you cant vent your problems to your colleagues or use them to lift your spirits. Have fun with your internal emails, make jokes, send emojis and try to stay upbeat.
Back to News
View Our Courses