CSCS Tests, Training and Cards
Booking your CSCS Test and Card
Before you take your CSCS test you need to evaluate cards that are available. There are a range of CSCS cards available, and all of them are relevant to different roles in the construction industry. These include:
The 'black card' which is aimed at managers.
The 'blue card' which is aimed at skilled workers in the industry.
The 'site visitors' card which is valid for those who frequently attend construction sites, but may not have a specific construction skill, such as an health and safety officer.
There is also the 'green CSCS card' which is the most popular and sometimes known as the 'Labourer's card'.
In order to apply for the green CSCS card, you have to complete a series of stages, but there are a range of different routes which you can take.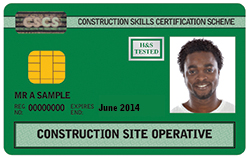 To apply for the card you can either:
Gain a qualification in the QCF Level One or SCQF Level 4 Award in Health and Safety in a Construction Environment. To find out how to take this award contact your local college of further education, training centre or Jobcentre Plus, they will advise you about training and assessment availability, pricing and whether funding is available. This will then give you the qualification to apply for your card and attend the CSCS test which 3B can organise for you.
The most conventional alternative is to attend the one day Site Safety Plus Health and Safety Awareness Course and pass the touch screen Operatives CITB Health Safety & Environment test in order to apply for your card.
The card is valid for five years and can be requalified by simply completing the touch screen test again.
To learn more about the different CSCS cards available see our blog Which CSCS Card Do I Need?