Emergency First Aid at Work eLearning Course
Emergency First Aid eLearning is an online course covering how to treat a casualty with an illness or injury until the emergency services arrive. The content will give you a base knowledge of first aid techniques that can help to reinforce existing knowledge or set you up to complete the whole Level 3 qualification.
You can also use the course to complete the theory elements of the classroom-based Emergency First Aid course. Please note: although you will cover practical areas during the course, you will still need to complete the demonstrations separately in the classroom to gain the whole Level 3 qualification.
Highfield accredited
Work towards a Level 3 qualification.
You complete the course entirely online.
eLearning is a self-paced course format that is highly accessible.
Learn life-saving skills.
Valid for three years.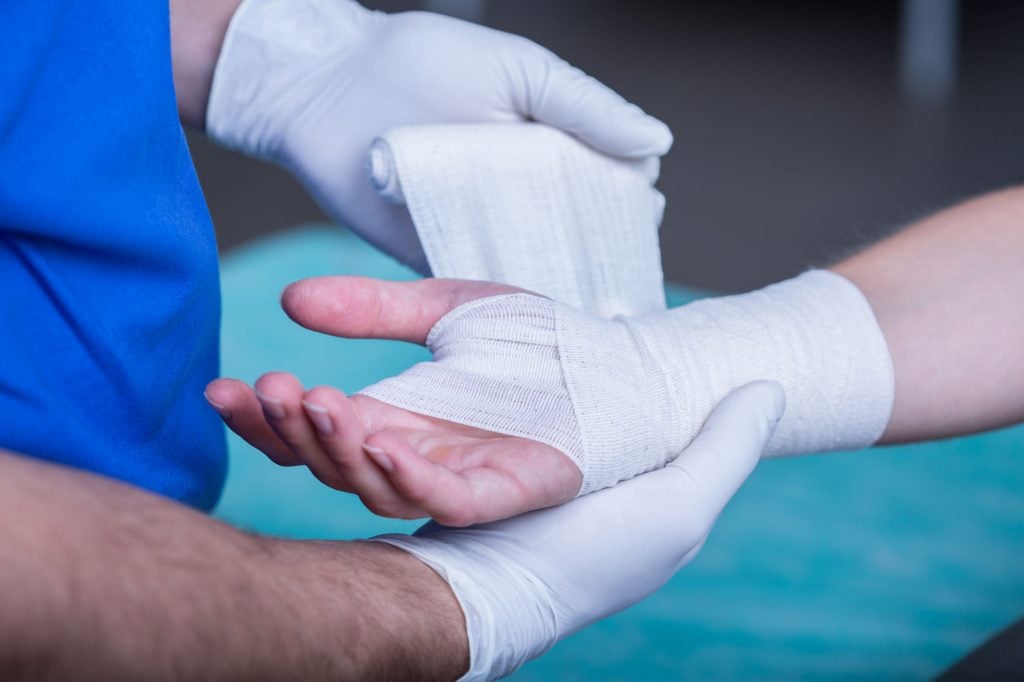 Emergency First Aid at Work eLearning course content
The Emergency First Aid course is split into 6 modules, each covering the required content to pass the course. The course is delivered through a range of videos, interactive exercises, multiple-choice questions and a final exam.
The course modules are as followed:
The day-to-day role of a first-aider. 
The roles and responsibilities, minimising infection, and the need for consent.
Assessing an incident.
The primary survey, and conducting a scene survey.
Providing first aid to an unresponsive casualty.
Applying CPR, the recovery position and first aid during a seizure.
Choking first aid.
Identifying mild/severe choking.
External bleeding casualty.
Identifying the severity of bleeding.
Shock first aid.
Recognising someone in shock, administering first aid on a casualty in shock.
Minor injuries.
How to deal with minor cuts, grazes, burns, scalds etc.
Assessment. 
At the end of the course, you will be assessed through a series of multiple-choice questions.
How long is the Emergency First Aid online course?
The course should take approximately two hours to complete.
The short duration allows you to gain or refresh your knowledge without taking too much time to train.
Why should I take this course?
This course is a great option if you are looking to top up your first aid knowledge but don't want to spend time and money on classroom training.  Although the course doesn't give you the full EFAW qualification, it is a fraction of the price of a classroom course and doesn't take up too much time. It also eliminates the time and expense that comes with travelling to a training centre.
The knowledge you gain is highly transferable; you can apply it both at home or in the workplace. Not only that, but the skills you gain could be potentially life-saving.
Emergency First Aid at Work eLearning entry requirements
There are no formal prerequisites for the course.
To access the online course.
You must log in through a device with a screen and access the internet. Most desktops and tablets are compatible with the course; we do not recommend using your mobile phone. You may also require speakers or headphones for parts of the course.
Is this course accredited?
Yes, this course is Highfield accredited.
Highfield provides high-quality qualifications that are recognised nationwide. This quality is also presented through their interactive and engaging eLearning courses. Experts in each field write all courses; experienced first aiders write this course.
Where can I complete this course?
This course is only available through our eLearning platform.
eLearning Courses
eLearning courses are highly accessible. As long as you can connect to the internet, you can complete the course anywhere at any time.
To book an eLearning course, you can book directly online or complete the enquiry form available on this page. Your enquiry will be picked up by one of the 3B team, who will be in touch.
Please take a look at all of the eLearning courses we have available here.
Once you have booked, you will receive an email with your login details. You then have 12 months to complete the course before your license expires.
If you want to gain the full EFAW qualification, you will need to take the blended learning approach and take the practical elements at a training centre.
Public Classroom Courses
If you are looking to gain the full Level 3 qualification, you will need to complete the course in a classroom. By completing this course, you will become a qualified first aider.
Classroom-based Emergency First Aid courses are available on public dates across the country. Individuals and companies can book one or more people onto a course through or our website or over the phone. The range of courses available gives our customers plenty of options when choosing a date and venue. The course is delivered in a classroom of up to 10 delegates by a Highfield approved tutor.
Please take a look at our upcoming public course dates here.
Further development
Once you have completed the course, you will be able to download your certificate. Your certificate is valid for three years before it expires. To renew your qualification, you must complete the course again.
For a more thorough online course, we recommend the First Aid at Work eLearning. This course is suitable for those who work in a high-risk environment.
We also deliver Emergency First Aid as a classroom course; the course is available in the below venues as an open course date.
NEXT AVAILABLE COURSES
Buy This Course
Emergency First Aid eLearning

eLearning - 02 Jan 2030

£15 + VAT
Are you interested in other eLearning Courses?
VIEW MORE COURSES