Face Fit Testing
A face fit test is a procedure that ensures the Respiratory Protective Equipment (RPE) you use fits correctly to protect against hazards identified in a risk assessment.
As detailed in the CoSHH (Control of Substances Hazardous to Health) regulations, it is a legal requirement that those using tight fitting RPE must be fit tested by a competent person.
Our Qualitative Face Fit Test (QLFT) is a pass or fail test of your RPE to check it is fit for purpose.
Have your RPE correctly fitted so it achieves a seal
You can book for a time that suits you
Protect yourself from hazardous substances
Work in line with current regulations
Valid for two years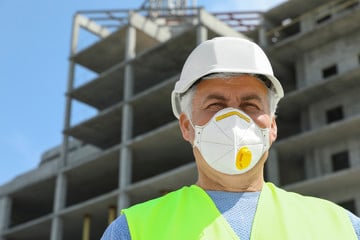 How the test is conducted?
Guided by a competent face fit tester, the test will look like this:
The tester will conduct a 'taste test' which helps to establish your sensitivity to the solution that is used
You will put on your chosen RPE and the tester will check to ensure you have done this correctly.
You'll be asked to wear a hood – the tester will introduce a solution in the hood that you shouldn't be able to taste if your RPE is achieving a seal.
You will then be asked to complete a series of short exercises, these are designed to replicate movements that could have an impact on the seal of your RPE when wearing it in your job
If all exercises are complete without tasting the solution, you'll then be asked to pull your RPE away from your face to ensure you can taste the solution after the seal has been broken.
The qualitative test is for half-mask but not full masks.
If the mask is unsuitable for the wearer, this will incur a fail. We can repeat the test until the mask achieves a proper seal.
How long is a Face Fit Test?
A Face Fit Test can vary in duration but will typically take around 25 minutes and will not affect the productivity of your schedule.
We can arrange a time with you beforehand and get you fitted when it suits you.
Why should I take this test?
By taking a face fit test for your RPE, you provide yourself with the best protection against inhaling hazardous materials. Many airborne materials such as asbestos can lead to work-related illness and death.
The law also says that anyone who wears a tight-fitting mask for their work must attend a face fit test. To work in line with regulations such as COSHH, Control of Asbestos Regulations and Control of Lead at Work, face fit testing is imperative.
If you haven't taken a test for a long time, you may also need to take a new one. Over time your mask will face wear and tear, or you may have lost/gained weight, so your face shape is different. Regular testing is vital to remain protected from hazardous materials.
Certification
3B Training will issue a certificate as evidence the face fit test has been passed.
Your certificate will remain valid for two years, although we recommend that you retest regularly.
In addition, all of our testers have passed a Face Fit Testing Workshop before attending, delivered by a Fit2Fit approved tutor.
Face Fit Testing participant requirements
To attend the test, you must provide the mask on the day that you use for work.
You must be clean shaven or we will be unable to conduct the test.
Where can I take the test?
You can book Face Fit Tests at a 3B Training venue from which staff operate or at a venue of your choice. To enquire, complete the enquiry form on this page. We will be in touch to arrange a suitable date and time and will quote based on numbers and location.