NEBOSH Construction Certificate eLearning Course
NEBOSH Construction Certificate eLearning is a must-have qualification for safety and health practitioners who work in the construction industry. The course will give you an understanding of your health & safety responsibilities and help to make your workplace safer.
NEBOSH accredited course.
The course content is researched and written by industry professionals.
Globally recognised qualification.
Improve your construction health & safety knowledge.
An essential qualification if you have health & safety responsibilities.
Lifetime qualification.
Available completely online.
A self-paced format that you can work around your schedule.
NEBOSH Certificate is the equivalent to an NVQ Level 3 / A-level qualification.
*Please note that the price of the course does not include assessment fees.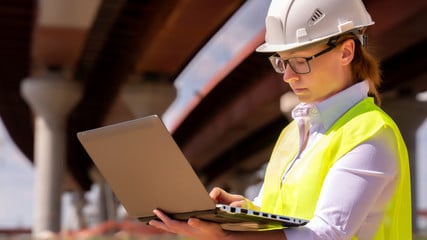 NEBOSH Construction Certificate eLearning course content
You can download learning materials or study online. The course materials are delivered in audiobook form so that you can listen online or offline. The course also contains a range of interactive materials, video content and mock assessments.
The content covered in the course includes:
NC1 – Managing Construction Safely
1 – The foundations of construction health and safety management
2 – Improving health and safety culture and assessing risk
3 – Managing change and procedures
4 – Excavation
5 – Demolition
6 – Mobile plant and vehicles
7- Working at height
8 – Musculoskeletal health and load handling
9 – Work equipment
10 – Electricity
11 – Fire
12 – Chemical and biological agents
13 – Physical and psychological health
Open Book Examination – 48 hours
To pass your NEBOSH Health and Safety Management for Construction, you will need to complete the Open Book Examination.
You will have a 48-hour window to complete the Open Book Examination, which you will have remote access to. 3B Training will then conduct a short interview (approx 15 minutes) within a few days of the exam completion date. You will be allocated time slots for this upon booking.
Technical support will be available from NEBOSH during the 48-hour window of the examination. To find out more about Open Book Examinations, visit here or contact us.
Unlike previous versions of NEBOSH Certificate courses, there will be no in-person exam.
How long is the NEBOSH Construction Certificate?
The NEBOSH Construction Certificate eLearning course contains around 164 hours of study. You can conduct the study hours in your own time at your own pace—this is ideal for those who cannot take the time away from work to attend a classroom course.
Why should I take this course?
Supervisors, managers and those with a role under the Construction Design and Management regulations 2015 within the construction industry should attend this course.
This course can help you minimise workplace injuries and illnesses, boost employee wellbeing and strengthen your businesses' health & safety culture. It will also ensure that you comply with CDM 2015 Regulations and understand the six roles' responsibilities. In addition, the qualification will allow you to demonstrate to customers, employers and colleagues that you are committed to health and safety within your business.
Entry Requirements
There are no formal prerequisites for this course.
We ask that you understand the written English language and the basics of occupational health and safety.
We were hoping you could get the best out of the training that you attend. Therefore, if you do not meet these requirements, you may not have the expertise to attend.
To access the course.
You are required to log in through a computer, laptop or tablet. In addition, the device must have access to the internet for you to proceed.
Is this course accredited?
Yes, NEBOSH is the accreditation for this course. The NEBOSH Certificate in Construction Health and Safety is one of the most in-demand qualifications in the construction sector.
Where can I take this course?
You can complete NEBOSH Health and Safety Management for Construction in the classroom, remotely or through eLearning.
eLearning Courses
The NEBOSH Construction Certificate is also available for learners to complete online via eLearning. eLearning is an alternative option for those who don't have the time to attend the classroom and prefer to complete the course independently. They log in as they please to complete the units.
Upon booking the NEBOSH Construction Certificate eLearning, 3B Training will send the learner their login details to the eLearning portal. The learner must then complete the training before the licence expires.
Public Classroom Courses
Classroom-based NEBOSH Construction Certificate courses are available to book across the country. Public classes are scheduled every quarter throughout the year. In addition, delegates or companies booking on their behalf can book a course online through our website or phone.
Please take a look at our upcoming public classroom course dates here.
In-house Courses
We can also arrange a classroom-based NEBOSH Construction Certificate as an in-house course specifically for a company. In-house NEBOSH courses are a popular choice for our more prominent clients who have multiple health & safety practitioners to train at once. Having all the delegates attending from one company also promotes company-related discussion about developing their company procedures.
3B Training can deliver In-house NEBOSH courses at a 3B venue or a customer choice site. All we ask is that no more than 20 delegates attend a class. Delegates must also sit the designated exams provided by NEBOSH. To enquire, fill out the contact form on this page. Please note all quotes are provided on a case-by-case basis depending on location, delivery type and delegate numbers.
Further Development
3B Training will send out your certificate between 6-8 weeks after NEBOSH has declared the results. The NEBOSH Health and Safety Management for Construction does not have an expiry date.
Other courses available to those who want to become a health & safety practitioner include NVQ Level 3 Health & Safety or the Level 6 NVQ Health & Safety.
NEXT AVAILABLE COURSES
Buy This Course
NEBOSH Construction Certificate eLearning

eLearning - 01 Mar 2030

£420 + VAT
Are you interested in other eLearning Courses?
VIEW MORE COURSES