NEBOSH Construction Certificate
IOSH & NEBOSH Accredited Courses
The NEBOSH National Certificate is the must-have qualification for safety and health practitioners. Its practical approach promotes the application of the knowledge acquired on the course to problem-solving within the workplace.
The courses are conducted quarterly and can be tailored to suit your personal industry requirements. The qualification is specifically referred to as a key competence in the Construction (Design and Management) Regulations 2015.
How long is the NEBOSH Construction course?
14 days of classroom study, plus personal study hours
Week 1: NGC1 (5 days)
2: NGC2 (5 days)
3: NCC1 (3 days)
4: NGC1 & NCC1 Exams (1 day)
Who should attend the NEBOSH Construction?
Supervisors, managers and those with a role under the Construction Design and Management regulations 2015 within the construction industry.
Is the NEBOSH Construction course accredited?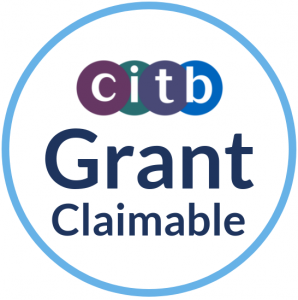 NEBOSH accredited
Is this course CITB Grant claimable?
You can claim up to £600 but you will need to make a manual claim yourself retrospectively. Find out how to claim yourself here.
Course Content of the NEBOSH Construction Certificate 
The content covered in the course includes:
NGC1 (NEBOSH General Certificate Unit 1) – Management of Health & Safety
This unit covers HSE legislation, health & safety knowledge and health & safety management systems.
1 – Foundations in Health & Safety
2 – Health & Safety Management Systems 1 – Plan
3 – Health & Safety Management Systems 2 – Do
4 – Health & Safety Management Systems 3 – Check
5 – Health & Safety Management Systems 4 – Act
NCC1 (NEBOSH Construction Certificate Unit 1) – Managing and Controlling Hazards in Construction Activities
This unit covers workplace hazards and how to control and prevent them in a construction environment.
Construction management and law
Hazards and control on a construction site
Plant and vehicle movement hazard control
Control of musculoskeletal hazards and risks
Hazards and control of work equipment
Electrical & Fire safety
Health hazards and risk control of chemical and biological substances
Psychological and physical health hazards and risk control
Working at Height, confined spaces & deep excavation hazard control
Demolition hazard control
NCC2 (NEBOSH Construction Certificate Unit 2) – Practical Exam
Within 10 days of completing NCC1, exam delegates must submit their practical exam.
Exams
NGC1 – Morning exam: 2 hours.
NCC1 – Afternoon exam: 2 hours.
Further Development
Further developments would include the NEBOSH Diploma or an NVQ Level 6 in Health and Safety.
Price Breakdown
NEBOSH Construction Unit Prices
It is possible to book each unit or exam separately if you would like to do this please contact us. Prices are as follows:
NGC1 (5 days) & NGC1 Exam: £600+VAT
NCC1 (8 days) & NCC1 Exam: £895+VAT
NGC1 Exam: £79+VAT
NCC1 Exam: £79+VAT
NCC2 Practical Exam: £59+VAT
NGC1, NCC1 & NCC2 Practical exams: £149+VAT
Additional Options
Exam Revision Day: £99+VAT
Mock Exam Day: £99+VAT
NEBOSH Conversion – for those who have completed the NEBOSH General Certificate and wish to achieve the NEBOSH Construction Certificate: £895+VAT
NEBOSH Combined – for those who want to achieve both the NEBOSH General and Construction Certificates: £1,975+VAT