Sharps Awareness Training Course
Sharps Awareness training course raises your awareness of the dangers of sharp objects and mishandling them. You will learn about the health risks of mishandling sharps, how to safely handle them, and the disposal of sharp objects on the course. The knowledge you gain will allow you to work safely with sharps avoiding their associated injuries and illnesses.
We can arrange the course in-house for a group of your employees. If you have a large team that need to be made aware of sharps safety, this format is the perfect option.
To find out more fill out the enquiry form on the right.
Qualify in just three hours of training.
Learn how to work with Sharps safely.
You can complete this course in the classroom or online.
We can deliver this course in-house.
Valid for three years.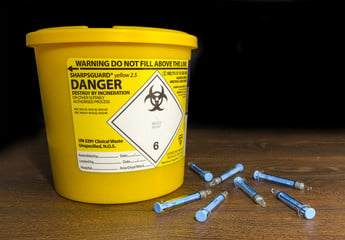 Sharps Awareness course content
The course will cover the following subjects:
Contactable diseases and illnesses from sharp object injuries
PPE and equipment available
Risk management
Assessment
To pass, you have to complete a short multiple-choice examination at the end of the course.
How long is the Sharps Awareness course?
This training course is around three hours long.
During the three hours, you will gain all the relevant knowledge you need. The course duration helps you to remain engaged and only covers the content that you need to know.
Not only that, but you can qualify quickly, with little time spent away from work.
Why should I take this course?
Sharps training is imperative for anyone who works with sharp objects in their occupation. The course is ideal for doctors, hospital workers, those who perform police searches and customs workers.
The course is also suitable for managers and supervisors of those who handle sharp objects should attend. The course will give you a better understanding of the risks your workers face. This will make it easier for you to talk over control measures with your staff.
Entry Requirements
Anyone can attend the course if they feel that the course is relevant to their job role.
We ask that you have a good understanding of English to get the most out of your training course.
Is this course accredited?
Yes,  3B Training are the accreditors of this course.
Providing quality training is part of our ethos. Our quality and course team work hard on our short courses to ensure that our course content is of the highest standard.
Where can I complete this course?
This course is available in house, for delivery at your location, saving you time and money on sending your teams out for training.
In-house Courses
3B can design an in-house course to address specific aspects of your job role to suit your needs. In-house training is an excellent way of teaching a group from the same company about relevant situations. Each in-house quote is provided on a case-by-case basis depending on location, delivery type and delegate numbers. To enquire, fill out the in-house enquiry form on this page.
Further development
You will receive a certificate 6-8 weeks after course completion.
You must renew your qualification after three years of completion. To renew the certificate, you must complete Sharps Awareness again.
If you would like to learn more about safely handling hazardous substances, we also offer the COSHH Awareness course.