Sharps Awareness
The Needles and Sharps Awareness training course raises awareness of the dangers associated with sharp objects and handling them incorrectly. The course also covers the health risks, safe handling and disposal of sharp objects.
How long is the Sharps course?
3 hours
Who should attend the Sharps course?
Sharps training is imperative for anyone who works with sharp objects in their occupation. The course is ideal for doctors, hospital workers, those who perform police searches and customs workers.
It is also advised that managers and supervisors of those who handle sharp objects should attend. The course will give them a better understanding of the risks their workers face. This will make it easier for them to talk over control measures with their staff.#
Is the Sharps course accredited?
3B Training accredited
When does my Sharps certificate expire?
Three years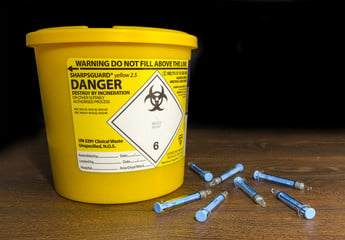 Entry Requirements
Anyone can attend the course if they feel that the course is relevant to their job role.
Course Objectives
3B can design the course to address specific aspects of your job role. Delegates will leave the course with improved knowledge of how to work with sharps hazards in their job role.
What does the Sharps Awareness course cover?
3B Training can design the training to suit the client's needs. It is a good way of teaching a particular group about situations relevant to them. The course can also go over the risks that the workers will encounter.
The course will cover the following subjects:
Contactable diseases and illnesses from sharp object injuries
PPE and equipment available
Risk management
What is Required to Pass the Sharps Awareness Course?
Delegates will also have to complete a short written assessment at the end of the course.