Working At Heights Awareness
Anybody working at height must comply with the Working at Height Regulations 2005. It is advised that employees must avert from working at heights a much as feasible but in the occasion employees need to be taught how to work safely and prevent from falling. If you are deemed to be working at a distance in which a fall could prove to cause personal injury, you are working at height.
How long is the Working at Heights course?
Three hours
Who should attend the Working at Heights course?
The course is suitable for people in a range of industries, not just scaffolding and construction: people in the emergency services, military, maintenance, and even stage and theatre would be relevant delegates to attend. If you work in conditions in which you use harnesses, ladders or fall arrest apparatus, this course is suitable for you.
Is the Working at Heights course accredited?
3B Training accredited
When does my Working at Heights certificate expire?
Three years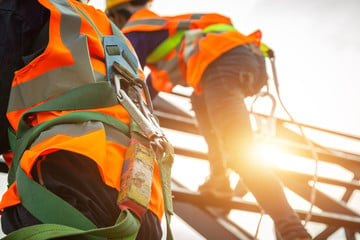 Is this course CITB Grant claimable?
You can claim £30 as long as you provide us with your CITB Levy number either at the time of booking or on the day of the course.
Course Objectives
On completion of the training delegates will:
Understand related legislation
Have a greater knowledge of the roles, duties and responsibilities of those working at heights, as well as those working alongside them
Have a better understanding of the associated and relevant safety equipment
Course Content
This course will cover the following topics:
An introduction to working at heights
The legislation surrounding working at heights
The duties of an employer and employee whilst working at height
Risk assessments and planning
Roof access
Avoidance of a fall
Using ladders and step ladders
Scaffolding
Lifting devices
What is Required to Pass the Working at Heights Course
Delegates will be assessed through a short assessment paper at the end of the course.
NEXT AVAILABLE COURSES
Next Available Courses
Doncaster - 30 Jul 2021

£70.00 + VAT