Working At Heights Awareness Course
Working At Heights Awareness will teach you the correct procedures when working at height to comply with the Working at Height Regulations 2005. You will also learn about common hazards and the requirements you must follow when working from height. The skills that you gain will help you to protect yourself and others from potentially fatal accidents.
Learn all you need to know in just three hours.
Work in compliance with the Working at Height Regs 2005.
Understand how to work safely at height.
You can complete this course in the classroom.
We can deliver this course in-house.
Valid for three years.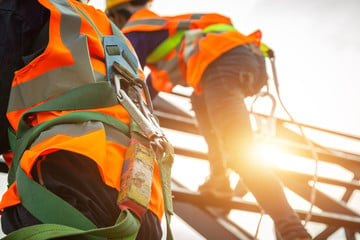 Working At Heights Awareness course content
This course will cover the following topics:
An introduction to working at heights
The legislation surrounding working at heights
The duties of an employer and employee whilst working at height
Risk assessments and planning
Roof access
Avoidance of a fall
Using ladders and step ladders
Scaffolding
Lifting devices
On completion of the training, you will:
Understand related legislation
Gain knowledge of the roles, duties and responsibilities of those working at heights, as well as those working alongside them
Have a better understanding of the associated and relevant safety equipment
Assessment.
The tutor will assess your knowledge through a short multiple-choice paper at the end of the course.
How long is the Working at Heights Awareness course?
We deliver the course over approximately three hours.
The short duration allows you to be as productive as possible and qualify quickly.
Why should I take this course?
Anybody working at height must comply with the Working at Height Regulations 2005. This course will help you to understand the regulations so that you can work in line with them. Companies seen dangerously working at height can face serious legal repercussions and bad press.
Although the regulations advise that you must avert from working at heights as much as feasible, you need to know how to conduct work safely when you do. Falls from height can be very dangerous, leading to potentially life-changing injuries and even death.
Working At Heights Awareness entry requirements
There are no formal requirements for this course.
We also ask that you have a good level of speaking and understanding English. 
To stay safe and work in line with legislation, you need to follow the course content fully.
Is this course accredited?
Yes, 3B Training accredit this course.
We work hard on reviewing and developing our course content so that the content is as up to date and helpful as possible.
Where can I take this course?
We deliver this course in the classroom.
Public Classroom Courses
Classroom delivered Working at Heights Awareness courses are available as public courses in all of our training venues. A  tutor delivers the course in a classroom of up to 12 delegates. In addition, individuals and companies can book spaces on the range of courses we have available either over the phone or online via our website.
In-house Courses
We can also arrange for the Work at Height training course as an in-house course specifically for your company. In-company training is a popular option for larger clients. We can deliver it at a site of your choice, and delegates can interact and discuss company-specific examples during the training. To run an in-house course, we need a minimum of 4 delegates and no more than 12 delegates. To enquire, fill in our in-house enquiry form on this page; we provide all of our quotes on a case by case basis depending on location, delivery type and delegate numbers.
Is this course CITB Grant claimable?
You can claim £30 as long as you provide us with your CITB Levy number either at the time of booking or on the day of the course.
NEXT AVAILABLE COURSES
Next Available Courses
Sorry, there are no courses available at the present time.
Can't see the course date or location you are looking for?
VIEW MORE COURSES