What is a Groundworker?
A groundworker is an essential role within the construction industry.
They aid in the design and construction of the building's layout and structure. The structure and layout provides support to hold the weight of the building.
Read more to find out what groundworkers do, how to become one and what careers are available within the industry.
What is a groundworker?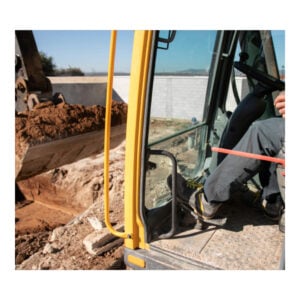 A groundworker has the important role of preparing the ground so it is ready for the commencement of construction work.
This is a crucial stage of a project as it allows other construction workers to fulfil their duties and ensures the site is safe and ready for work to begin.
Without the job of a groundworker, buildings wouldn't be as sturdy and the site wouldn't be as safe to work on.
The groundworker will possess knowledge and skills within topics such as site preparation, excavation, drainage and concreting.
What does a groundworker do?
The responsibility of a groundworker is to contribute to the success of a construction project.
They set the foundations for other construction professionals to come in and build the structures we see on a daily occurrence.
Preparation of the site for construction work includes the following:
Investigation – Assess the land to determine whether it is suitable for development. This recognises any potential issues before the work begins.
Site Preparation – The first step is the removal of any debris, vegetation or inconvenient objects. Anything getting in the way can hinder the project.
Excavation – This is done by digging with the purpose of creating a flat surface for the base of the building or creating trenches for things such as fountains, tunnels and drains. There may be various machinery used to assist the groundworker with this.
Drainage and pipe-laying – Every building requires utilities such as water, gas and electricity. One of the duties of a groundworker is to lay the groundworks for these utilities to be implemented.
Pavements and roads – Groundworkers are also responsible for creating pavements, roads and other hard landscapes.
Read more about what excavation training is here: EUSR Training
How to become a groundworker
To become a groundworker you need to decide what area you would like to work in and then learn the skills to work correctly on-site.
We have a number of groundwork courses you can take to develop your skills.
Here are a few courses 3B Training has available to excel you in your desired role:
Completing one of these courses demonstrates that you have the necessary skills to carry out your role on-site safely and efficiently.
What jobs are available with groundworks?
There are a number of groundworker career paths available.
Here are a few job roles and their descriptions:
Utility worker – Handles all things gas, electricity and water on site.
Street works operative and supervisor – Carries out maintenance and improvements of the roads.
Temporary works coordinator and supervisor – Manages all forms of temporary works such as access scaffold, props, shoring, excavation support, falsework and formwork etc.
Underground workers – Work in confined spaces.
The groundworkers salary depends on which sector they are in, what level they are at and what location they are working in.
Overall, groundworkers play a substantial role in ensuring a project reaches successful completion.
Operating within this industry offers a number of great opportunities and a sense of satisfaction.
Groundworkers prepare and set the foundations for us to build a better future.
Back to News
View Our Courses