The Benefits of Regular Training in the Workplace
As an employer training may seem more of a nuisance than a necessity. At 3B Training, we believe regular training is imperative in the workplace for the business and your employees.
Take a look below at the reasons why regular training is so important.
Stay Updated and Informed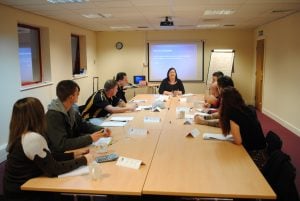 Every industry is changing constantly and it can be difficult to keep all your workers up to date with these changes. If any new laws or regulations are broken that haven't been circulated properly it could lead to future repercussions. A good example of this is the introduction of the changes in CDM Regulations; the regulations require every site to fulfil certain criteria and if they are not properly communicated you could be reported to the HSE (Health & Safety Executive). To find out more about CDM 2015 click here.
Refresher Courses are Vital
Regular training will also keep certificates in date and make sure that workers are proven to be competent at what they are doing. For example, if an incident occurs in which a first aider's certificate has expired and they implement first aid in the workplace and something goes wrong the person who had administered the first aid could end up in trouble.
Job Satisfaction and Motivation
With additional training comes more prospects for your employees and potentially more pay; which tends to lead to a happier and more motivated employee. Employees like to see that they are appreciated by an employer. By providing workers with development and training you are seen to be investing in them and showing that they are valued. This can also benefit towards reducing the turnover of employees which allows the output of a business to be consistent rather than training someone from scratch.
Better Business and Workers
As your workers become more up-skilled opportunities will become available for them to advance within the company and take on new tasks. When employees gain new skills, doors can open up for the company and the employee. These new found skills may also give the employee and the business that cutting edge over the competition. If an employee is trained in a more advanced technology or method and your competitors aren't, this could allow your business to offer a unique service.
Internal promotions also help cut down on the time and cost of recruiting externally. By promoting an existing employee you know that they know the business and they are someone that you can trust.
As the employee skill set grows so will the business; this will help attract top talent to join your team and show potential employees that you offer many development opportunities. You also need to keep all your workers' basic skills up to scratch. This forms a strong base for the company and helps with its success which all contributes to the productivity of the business.
Classroom Courses or eLearning: Which Course Method Is Right for Me?
Both these methods are tried and tested ways of conducting training but they don't necessarily suit everyone. Take a look at the pros and cons of each method here.
Back to News
View Our Courses