How To Attend Training Courses From Home
3B Training offers a range of training courses that are now available to attend from home. Work from home training courses became a preferable option in 2020 due to the pandemic and the world seeing the cost and time benefits of remote learning. 
How can I attend training courses from home?
We have two options that you can use to attend a training course from home. Both eLearning and Remote Learning courses give you the option to continue to learn whilst not leaving to attend external training.
eLearning Courses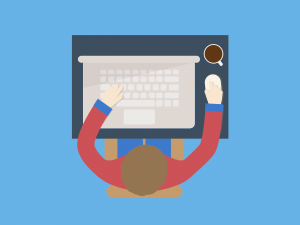 Learners attend eLearning training courses specifically via the internet. The course content is not delivered by a tutor, the learner will gain their knowledge through a range of interactive activities and quizzes.
eLearning training courses are great courses to attend from home as they can be easily accessible from most devices. Learners can access an eLearning course via a computer, smartphone, tablet or laptop. They can also be logged onto and completed unit by unit 24/7. This gives a great option of flexibility for the learner.
Remote Learning Courses
Like eLearning courses, Remote Learning courses can also be accessed from home via a device. The difference with Remote Learning is that the tutor delivers the course over a video call. Learners are also able to interact with the tutor and delegates throughout the course whereas with eLearning you don't get that personal element.
Although Online Remote Learning allows you to attend from home, the course has a specific start and end time. These courses have scheduled public dates that can be booked throughout the year (just like a classroom course).
Which Training Courses Can I Attend From Home?
Take a look below at the courses that are available to attend via Remote Learning below:
View all of the Remote Learning dates we have available here.
Both Highfield and UKATA accredited eLearning courses are available to book online or over the phone. Take a look at the full, offering of courses here.
What are the advantages of attending training courses from home?
Take a look at the main advantages of attending virtual learning courses on our blog here.
Back to News
View Our Courses