Misconceptions About eLearning
Misconceptions about eLearning are often made due to online training being relatively new compared to classroom courses.
Take a look below at some common misconceptions about eLearning that you may have and what the factual information is.
Online training isn't as effective as classroom courses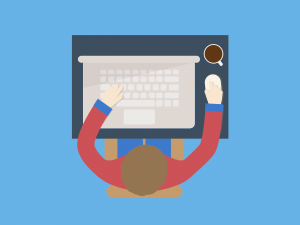 Some people believe that learning is limited to being in a classroom. It's often thought that if the course content isn't coming from a tutor, then the delegates aren't learning what they should be.
When in reality, online training is just another way to learn. The delegate has full control over their learning and they are also able to learn at their own pace. This makes the learning process effective as they can work faster on the areas they are already comfortable with, yet slower on the areas that they aren't as comfortable with.
I need to be tech-savvy to complete eLearning
Yes, you will need basic technology skills, however, eLearning courses are easy to navigate through, mostly with a simple click of the mouse. They are designed to be user friendly and straightforward. After all, they want you to be focusing on the actual course content, not struggling to navigate through the course.
eLearning isn't engaging
eLearning is definitely an easy way to deliver interactive content. It isn't just reading or listening to slide after slide without having to do anything. It includes a variation of videos, case studies, infographics, quizzes and puzzles. This ensures that the learner is staying active throughout the process of learning.
Online courses are easier
Many believe that online courses are easier and that the workload will be smaller. However, this isn't the case. eLearning involves as much attention as a classroom course would. Learners who underestimate this may not come out with the results they expected.
The reality of misconceptions about eLearning
Most myths about eLearning aren't true. If the truth about these misconceptions where known, then the opinion of most would change and more people would likely complete online training wherever possible as the benefits are huge.
The fact that eLearning means online education is accessible from wherever you are is a huge benefit. Whether you're working from home or simply don't have the time in your busy schedule to go and attend a classroom course, it allows you to have the ability to learn at the same standard.
Find out more about the benefits of eLearning for employees here.
Stay safe and complete your training at home
We offer a range of eLearning courses including Highfield and UKATA. Take a look at our full range here.
Back to News
View Our Courses