Helping Your Employees Manage Stress
What is the purpose of Stress Awareness Month?
The aim of Stress Awareness Month is to raise awareness of the causes and cures of our modern stress epidemic and the theme this year is 'Community'.
The reason this theme has been chosen is that having a lack of support can cause loneliness and isolation. This can lower someone's well-being and impact their mental health.
Our Managing Director, Mathew Bewley, spoke to our Quality Manager, Brittany Tonge, and our Accounts Assistant, Lincoln Quane about what can cause stress in the workplace and what a business can do to help you manage that stress. Click below to look at our YouTube video…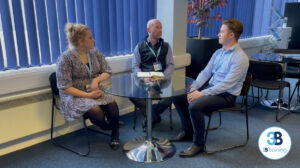 What can cause stress in the workplace?
Some people may put pressure on themselves around meeting deadlines, even if others aren't putting pressure on them.
It can also be overwhelming for some when trying to prioritise what needs doing first if you have a lot of tasks to do, especially when adhoc tasks drop onto your desk that you aren't expecting.
What can a business do to help employees manage stress?
Encourage employees to take the time to have a break and be open and talk about feeling stressed, such as a 5/10-minute brew break, or Fika. Having this time with a colleague can help you relax and reset, allowing you to go back to your tasks with a clearer mind.
What is Fika and how can it help?
Fika is "a break from activity during which people drink coffee, eat cakes or other light snacks, and relax with others."  In Sweden, Fika is also a state of mind, an attitude, and an important part of Swedish culture.
Meeting for Fika allows you to refresh the brain which is crucial for concentration and focus. It also involves dedicating time to bond as a team and getting to know your colleagues on a personal level to relax your mind before your next task.
How To Reduce Work-Related Stress
It's not always feasible to remove the issue that is causing you stress, but there are things you can do that could help reduce the stress you're feeling. Read more here.
Back to News
View Our Courses