How To Reduce Work Related Stress
Do you suffer from work related stress but are unsure of how to reduce it?
Take a look below at some ways that can help reduce your work- related stress.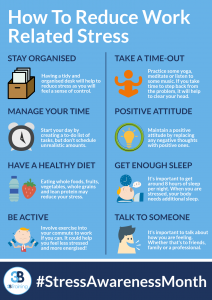 Stay organised
By having a tidy and organised desk in your workplace, it will help you to feel a sense of control which will help to reduce your stress. Having some control also allows us to stay motivated.
Manage your time
If you start your day by creating a to-do list of tasks, you will feel organised for the day head. However, don't schedule unrealistic amounts of tasks to do as this will result in causing stress.
Have a healthy diet 
Having a healthy diet may help to reduce your stress. Try eating whole foods, fruits, vegetables, whole grains and lean protein.
When under stress, some people will eat to comfort themselves. If you find yourself doing this, try to replace it with an action that will help to reduce your stress, such as going for a walk or listening to some music.
Exercise regularly 
Aerobic exercise is known to help decrease tension. So why not try exercise such as running or swimming to help reduce your stress?
Furthermore, if you can involve exercise into your commute to work, then why not?
Take a time-out 
Yoga is beneficial for stress management as it can help to lift your mood and increase mindfulness. This will help to encourage yourself to have a break.
Listening to calming music is also another stress reliever, as it can help to reduce anxiety, whilst making you feel more relaxed.
Positive attitude 
Having repetitive negative thoughts will lead to negative emotions.
It is important to try to replace negative thoughts with positive ones instead. This can be done by first of all recognising negative thought patterns and then starting to take steps back from them.
Get enough sleep
Insufficient amounts of sleep can lead to increased levels of stress.
Getting a good nights sleep will allow you to be more patient and less agitated, therefore you will be able to deal with anything stress you have in a better way.
Talk to someone about work related stress
It's important to talk about how you are feeling, whether that is to a friend, a family member or a professional.
Doing this may also help you to recognise what it is that's causing your stress.
What are the signs of work related stress?
Do you know what you should be looking out for when it comes to work-related stress? Find out here.
Back to News
View Our Courses