Fire Safety Checklist For The Workplace
Do you know why a fire safety checklist is so important?
If you carefully maintain and manage your workplace, you are less likely to have any fire risks.
Please take a look at our Fire Safety Checklist below to help assist you when conducting fire risk assessments and to maintain the fire safety standards on your premises.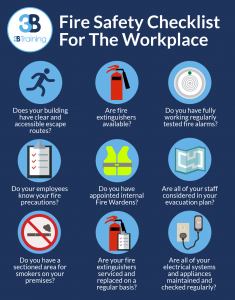 Clear escape routes
Employers and employees often overlook having clear escape routes. Until an emergency occurs and then the fire exit is inaccessible. By keeping escape routes clear from any obstruction, you are not only protecting your safety but the safety of your colleagues too.
Fire extinguishers in the workplace
It is important to ensure that your employees have sufficient protection for when they may need it. You also need to make sure you have members of staff that have completed Fire Warden Training.
Testing fire alarms
The government recommend that your fire alarm is tested every 6 months by a competent person. They also recommend weekly testing by your 'responsible person'. This means to quickly test your alarm to check that it is in working order.
Employees and fire precautions
All of your employees must be aware of the fire precautions in the workplace, not just your fire wardens. To achieve this, a Fire Awareness course or a Health and Safety induction for new starters would be useful.
Fire wardens in the workplace
Preparing for any fire emergencies that may occur in your workplace by having internally appointed fire wardens is important to keep yourself and others safe.
Importance of an evacuation plan
Make sure your staff, clients and other visitors can access the evacuation plan. This is important in case of an emergency where they need assistance to make it out of the building safely.
Sectioned area for smokers
The designated smoking area at your workplace should be sited at least 1.5 metres away from any sheltering walls or other structures. It also reduces secondhand smoke exposure to those who are non-smokers.
Servicing and replacing fire extinguishers regularly
Fire extinguishers need servicing and replacing regularly.  Otherwise, it could mean it will fail when you need it in an emergency.
Checking electrical systems and appliances regularly
Carrying out regular PAT tests on systems and appliances is important. This will reduce the risk of any injuries occurring by an unsafe appliance to your employees.
Back to News
View Our Courses