Fire Safety Checklist For The Workplace
Do you know why a fire safety checklist is so important?
If you carefully maintain and manage your workplace, you are less likely to have any fire risks.
Please take a look at our Fire Safety Checklist below to help assist you when conducting fire risk assessments and to maintain the fire safety standards on your premises.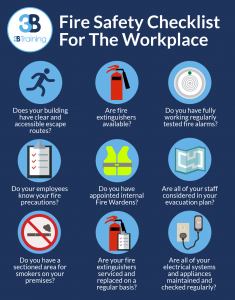 Clear escape routes
Employers and employees often overlook having clear escape routes. Until an emergency occurs and then the fire exit is inaccessible. By keeping escape routes clear from any obstruction, you are not only protecting your safety but the safety of your colleagues too.
Fire extinguishers in the workplace
It is important to ensure that your employees have sufficient protection for when they may need it. You also need to make sure you have members of staff that have completed Fire Warden Training.
Testing fire alarms
The government recommend that your fire alarm is tested every 6 months by a competent person. They also recommend weekly testing by your 'responsible person'. This means to quickly test your alarm to check that it is in working order.
Employees and fire precautions
All of your employees must be aware of the fire precautions in the workplace, not just your fire wardens. To achieve this, a Fire Awareness course or a Health and Safety induction for new starters would be useful.
Fire wardens in the workplace
Preparing for any fire emergencies that may occur in your workplace by having internally appointed fire wardens is important to keep yourself and others safe.
Importance of an evacuation plan
Make sure your staff, clients and other visitors can access the evacuation plan. This is important in case of an emergency where they need assistance to make it out of the building safely.
Sectioned area for smokers
The designated smoking area at your workplace should be sited at least 1.5 metres away from any sheltering walls or other structures. It also reduces secondhand smoke exposure to those who are non-smokers.
Servicing and replacing fire extinguishers regularly
Fire extinguishers need servicing and replacing regularly.  Otherwise, it could mean it will fail when you need it in an emergency.
Checking electrical systems and appliances regularly
Carrying out regular PAT tests on systems and appliances is important. This will reduce the risk of any injuries occurring by an unsafe appliance to your employees.
Frequently Asked Questions About Quick Workplace Checklists.
What is included in the quick workplace checklist?
A quick workplace checklist typically includes a brief overview of the essential safety and operational aspects of a workplace. This can encompass:
Proper storage of materials and equipment.
Clear access to emergency exits and equipment.
Functioning lighting and ventilation systems.
Availability of first aid kits and trained personnel.
Proper signage for hazards and safety protocols.
Verification of working fire alarms and extinguishers
What is the 5 Step Fire Risk Assessment?
The 5 step fire risk assessment is a systematic approach to identifying and managing fire risks in a premises. The steps are:
Identify Fire Hazards: This includes sources of ignition, fuel, and oxygen.
Determine People at Risk: Identify who is at risk in the event of a fire, considering employees, visitors, and any vulnerable individuals.
Evaluate, Remove, or Reduce the Risks: Assess the potential risks and determine measures to eliminate or reduce those risks. This can involve implementing fire safety measures, safe storage practices, and regular maintenance checks.
Record, Plan, Inform, Instruct, and Train: Document your findings, develop an emergency plan, and ensure that all staff are informed, instructed, and trained about fire safety.
Review: Regularly review the fire risk assessment to ensure it remains up-to-date and reflects any changes in the premises or activities.
What is included in a safety checklist?
A safety checklist encompasses a list of items or actions to ensure the safety of a workplace or activity. It can include:
Verification of safety equipment functionality (e.g., fire extinguishers, alarms).
Proper storage and labelling of hazardous materials.
Availability and accessibility of first aid kits.
Proper signage for potential hazards.
Regular inspection of machinery and equipment.
Training and certification checks for employees handling specialised equipment.
Emergency evacuation procedures and routes.
Why is a workplace checklist important?
A workplace checklist is crucial because:
It ensures a consistent approach to safety and operational standards.
Helps in identifying potential hazards before they become significant issues.
Provides a structured way to train new employees on safety protocols.
Aids in compliance with regulatory and industry standards.
Enhances overall safety awareness among employees.
Reduces the likelihood of accidents and incidents, promoting a safer working environment.
What is a fire risk assessment checklist?
A fire risk assessment checklist is a tool used to systematically evaluate the potential fire risks in a premises. It includes:
Identifying potential sources of ignition, fuel, and oxygen.
Assessing the condition and accessibility of fire safety equipment.
Evaluating the effectiveness of fire safety protocols and training.
Checking the integrity of fire doors, escape routes, and emergency exits.
Reviewing storage practices for flammable materials.
Determining the adequacy of fire safety signage and lighting.
Evaluating procedures for alerting occupants in case of fire.
Back to News
View Our Courses