Display Screen Equipment – How To Work Safely
What is "Display Screen Equipment"?
Display Screen Equipment or DSE are computer screens that could potentially cause health risks from your workstation. DSE's include the likes of laptops, tablets, PCs and smartphones.
It's your employers' responsibility to protect you from the risks that come with your workstation to comply with the (Display Screen Equipment) Regulations 1992. The best practice is to complete a workstation assessment for each individual.
What does the Display Screen Equipment Regulations 1992 cover?
The Health and Safety (Display Screen Equipment) Regulations cover several provisions relating to all computer screens. Employers must ensure:
They carry out risk assessments on workstations to reduce risks to employees.
Employees take regular breaks from their screens. 5-minute breaks, every 30 minutes are adequate.
An Optician conducts annual eye tests on employees if needed.
Each employee takes display screen equipment training.
Why should you complete a display screen equipment DSE assessment?
A DSE assessment should be completed to ensure that workstations are compliant with legislation and also to reduce any health and safety risks. Employers have several factors of a workstation to consider to make sure it is satisfactory. Each piece of furniture/equipment has its guidelines for ergonomics and some employees may require requirements to facilitate a disability or impairment. Employers must carry out regular DSE assessments; 3B Training recommends that they are taken every 2 years.
How should I set out my mouse and keyboard when using display screen equipment?
Keyboard Ergonomics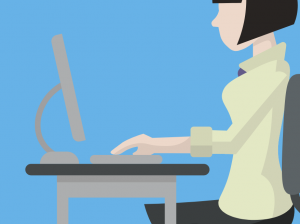 If you are using PC your keyboard should be separate to your screen. It is also advisable that it can be tilted so it can be adjusted to suit the user. A wrist rest can be used to help make using your keyboard more comfortable.
Avoid overstretching by ensuring your keyboard is close enough to you. Adjust your hand positioning if you find that they are bent up at the wrists,
Look after your eyesight. Make sure you can see the characters on your keyboard to avoid straining your eyes. Keyboards with a matt finish prevent glare from the keys. Also, clean your keys regularly and replace any keys with worn-out characters.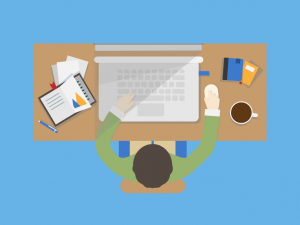 Mouse Ergonomics
Your mouse position is just as important as your keyboard's. Position your mouse a close to you, alongside your keyboard should be suitable. This will prevent you from overreaching and allow you to relax your arm and work much easier. Employees may require a wrist rest.
Where should your eyes be positioned when using display screen equipment?
Your eye line should be level with the top of your screen. To ensure this is the case for all employees, you should buy screens with built-in tilt and swivel mechanisms. If this is the case by adjustable arms to attach to the monitor.
Display screen issues are big factors in causing long term eyesight and musculoskeletal problems.  It's not just the position of your screen that you need to consider, you also need to think about your screen settings.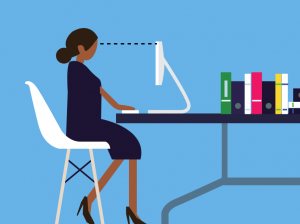 Are the characters on your screen readable? Adjust the size, brightness, contrast and background settings to suit you. Another thing to be conscious of is the cleanliness of your screen, a dirty screen could impair visibility.
When there is glare the best position for your screen is?
Another factor to check is screen glare. If you are suffering from screen glare firstly try and remove the problem by moving your screen or desk or closing window blinds. If that isn't feasible you may need to fit your screen with anti-glare film or a visor.
Where should I position my office furniture to improve workstation ergonomics?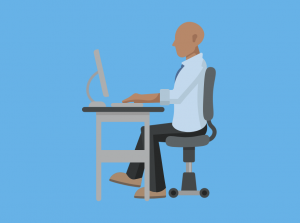 Remove any obstructions from under your desk and make sure that your chair arms can't stop you from getting close enough to your desk. Sit with a straight back with relaxed shoulders, some chairs may also require a backrest for assisted support.
Forearms should be level with the desk, you may also need to adjust your screen and chair height to suit this. If your feet don't touch the ground flat on the floor you may require a footrest.
5 Most Common Office Injuries and How to Avoid Them?
For more tips on creating a safer office, take a look at our blog here.
Back to News
View Our Courses