3B Training: Your Premier Provider for Confined Spaces Training
Entering and working in confined spaces can be a risky task. Understanding the unique hazards and the necessary precautions to take is crucial in ensuring the safety of employees.
Fortunately, Confined Spaces Training is designed to equip your workforce with the knowledge and practical skills required to operate safely within such environments. 
This training is essential for a broad range of industries, including construction, maintenance, oil and gas, among others, where workers frequently encounter confined spaces.
In this guide, we will take you through the importance of 3B Confined Spaces Training, how it meets legal and safety requirements, and its role in enhancing workplace safety.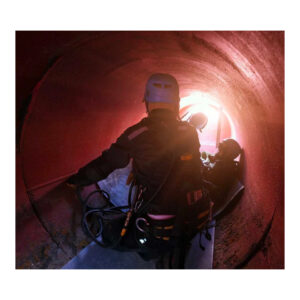 Understanding the Importance of Confined Spaces Training
Confined spaces pose specific challenges that demand tailored safety measures. The risk of asphyxiation, falls, fires, and chemical exposure are just some of the potential dangers that workers might encounter. 
Confined Spaces courses provide delegates with the ability to recognise these hazards, understand their potential impact, and identify the appropriate safety protocols.
With this training, companies can reduce the incidence of workplace injuries, promote a culture of safety, and protect their employees from the unique hazards presented by confined spaces.
Meeting Legal and Safety Requirements with Confined Spaces Training
In addition to the obvious benefits of ensuring worker safety, Confined Spaces Training is often a legal necessity. Various laws and regulations such as require employers to provide adequate training to employees working in these environments.
By investing in Confined Spaces Training, businesses can meet legal obligations, potentially reducing liability and costs in case of a workplace accident. Beyond compliance, this training reinforces a company's commitment to safety and its reputation as a responsible employer.
The Role of Confined Spaces Training in Enhancing Workplace Safety
The Confined Spaces course plays an instrumental role in enhancing workplace safety. By familiarising workers with confined spaces and their associated hazards, it prepares them to take proactive measures to prevent accidents. 
The training encompasses a variety of components, including hazard identification, use of safety equipment, emergency procedures, and even rescue operations. When employees understand and apply the knowledge from this training, they can contribute to creating and maintaining a safe workplace.
Ultimately, Confined Spaces Courses instil a robust safety mindset that extends beyond the confines of these particular environments, fostering a culture of safety across all operations.
In-Depth Look into 3B's Confined Spaces Training Courses
3B's Confined Spaces courses are designed to offer in-depth, practical knowledge to workers across a variety of industries. These courses are tiered to address varying levels of risk associated with different confined spaces. 
Ranging from low to high risk, these courses provide workers with the necessary skills and understanding to ensure their safety. 
Low Risk Confined Spaces Training: For Safe Entry and Exit in Less Hazardous Environments
3B's Low Risk Confined Space Course is perfect for workers operating in environments where there is adequate natural or mechanical ventilation, allowing for safe entry and exit without the need for a full harness and lifeline. 
This course focuses on:
Working in Low Risk Confined spaces
Preparing to work safely in a Low Risk Confined space
Safely using tools and equipment
Following work procedures safely
Safely entering and exiting confined spaces
Dealing with an emergency
Roles and responsibilities in a Low Risk Confined space
Applying your knowledge to your work
The trainer will assess your competence and understanding throughout the course. Finally, you will sit a written exam and have practical assessment, which you have to pass to complete the course.
Medium Risk Confined Spaces Training: Enhancing Skills for More Complex Environments
Our Medium Risk Confined Space Course is designed for workers who are required to enter and exit spaces with a more complex layout, where the use of escape breathing apparatus may be necessary. 
This two-day course teaches attendees about:
City & Guilds 6160-09 Level 2 Award in Entrant and Entry Controller for Confined Space (Medium Risk)
Preparing to work in a medium risk confined space safely
Entering and exiting a medium risk confined space safely as an Entrant and Entry Controller
The preparation and use of escape breathing apparatus
Using tools and equipment safely
Following work and procedures in a safe manner
Dealing with an emergency and observing and understanding Gas Monitor Readings
How to conduct yourself when working in confined spaces
The legislation surrounding work in a confined space
Applying your knowledge of confined spaces into your work
The trainer will assess you on your understanding of the training throughout over the two days. To pass the course, you will be observed entering a medium risk confined space and a written examination.
High Risk Confined Spaces Training: Navigating the Most Challenging Environments Safely
For employees who work in high-risk confined spaces, where hazards are severe and require the use of full breathing apparatus, 3B offers the High Risk Confined Space Training Course. 
This comprehensive course provides delegates with extensive knowledge about the severe risks associated with high-risk confined spaces. 
High Risk Confined Spaces Training Theory:
Confined Spaces Regulations 1997 & Approved Code of Practice
Identification of a high risk confined space
Confined space classifications
Water industry national classifications
Risk assessment and workplace safety
Operation of a safe system of work
Following and preparing a method statement
Emergency planning
Gas detection and risks
Hygiene and first aid
SCBA – Self-Contained Breathing Apparatus and emergency breathing apparatus (EBA)
High Risk Confined Spaces Training Assessment:
Practical observation
Undertaking risk assessments throughout the exercise to identify hazards
Responding to risks and hazards
Dealing promptly with emergencies
Short written answer question paper
You must complete a portfolio of evidence, as well as pass an exam in order to achieve this qualification.
Unparalleled Confined Spaces Training at 3B Training
At 3B Training, we are committed to delivering the highest standards of confined spaces training. Our approach combines expertise, practical experience, and adaptability to cater to the unique needs of our learners.
Expert Trainers for High-Quality Instruction
3B Training employs a team of expert trainers, all of whom are highly skilled in their respective fields. With years of industry experience and thorough knowledge of confined spaces safety standards, our trainers are adept at providing high-quality instruction that adheres to the latest health and safety regulations.
They not only focus on imparting the necessary knowledge but also work on developing the skills of the learners, ensuring they are fully prepared for real-world challenges. Our trainers' expertise is what drives our high-quality instruction, making 3B Training a preferred choice for confined spaces training.
Blending Theory and Practice for Comprehensive Learning
At 3B Training, we believe in providing comprehensive learning experiences. That's why we've adopted an approach that blends theoretical knowledge with practical experience. This balance enables delegates to understand the underlying principles of confined spaces safety and apply them in a real-world context.
Through classroom lessons, case studies, and hands-on exercises, we create a robust and immersive learning environment. This blend of theory and practice leads to a comprehensive understanding of confined spaces safety, making our training courses not just informative but also practically applicable.
Adapting to the Unique Needs of Learners through In-House Training
We understand that every business is unique, and so are its training needs. At 3B Training, we offer in-house training options that are tailored to the specific needs of your business.
These customised training programs allow us to address the precise risks and challenges that your workers might face in their confined spaces work.
Our in-house training is adaptable, focused, and offers an effective learning environment that accommodates the unique needs of the delegates.
Confined Spaces Training Accreditation and Certification
Accreditation and certification are crucial markers of the quality and value of professional training. At 3B Training, our Confined Spaces Training courses are accredited by City and Guilds. Upon successful course completion, you will receive a City and Guilds certificate which is valid for 3 three years. 
Head over to our Confined Spaces Training page to view our next available course dates.
Back to News
View Our Courses