What Does a Construction Site Manager Do?
Site managers play a critical role within the construction industry. From managing tasks to ensuring compliance with safety regulations. Those with a role in construction site management are also responsible for successfully completing a project.
In this blog, we discuss what site managers do, whether there are any qualification requirements to become one and how to be successful within the role…
What does a site manager do?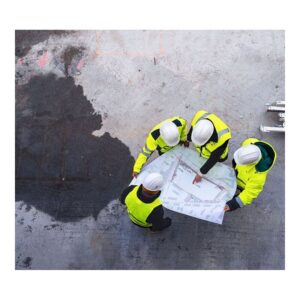 A construction site manager is responsible for overseeing all activities on-site. They manage budgets, schedules and resources and make sure that projects are completed safely, on time and within budget.
A site manager is a critical part of the team because they keep the whole operation together to achieve a successful outcome of the project.
What are the roles and responsibilities of a site manager?
Some of the specific duties of a construction site manager include:
Coordinating with architects, engineers and contractors.
Managing budgets and financial resources
Managing project schedules
Complying with health and safety regulations and industry standards
Hiring and managing staff, including contractors and subcontractors.
Liaising with clients about project progress and updates
Being a site manager takes a high level of responsibility since you have to ensure the project is completed within the deadline and budget, and that tasks are carried out safely.
How to be a good site manager
Asking yourself 'how to be a better site manager' is the start of becoming one, but there is a certain skill set you'll require to be a good construction site manager.
To become a good construction site manager, you'll need to have strong leadership, communication, organisational and problem-solving skills.
You should also have a thorough understanding of industry regulations and standards, and be committed to safety and compliance, whilst having a customer-focused mindset.
Overall, having good, in-depth knowledge of the industry, being efficient in your role and being compliant when it comes to health and safety will all contribute towards you becoming a good manager.
What qualifications do I need to be a site manager?
To be a construction site manager you are required to have a combination of education, experience and skill.
Your duty as a construction site manager includes overseeing everything on site, which requires a great level of responsibility.
Some pathways to get into this career are:
Get experience working on-site, progressing to this role.
Complete the relevant training
Complete a university degree related to the role
What is SMSTS qualification?
SMSTS stands for Site Management Safety Training Scheme. This is for construction workers with managerial or supervisory roles, and helps to make sure that they have the necessary knowledge to ensure safety on-site.
The SMSTS course is accredited by the Construction Industry Training Board (CITB) which is the sector skills council and industry training board for the construction industry.
The SMSTS course covers topics such as:
Health and safety facts and the role of a manager
Health and safety laws, regulations and legislation.
First aid provision and reporting injuries
Asbestos
Waste and risk management
Mental health awareness
If you're looking for a construction site manager course, our CITB SMSTS course will give you all the essential knowledge.
Training courses
There are construction management courses you can take to increase your knowledge and make you more proficient in your role including:
NVQs
An NVQ is a great way to progress and obtain a lifetime qualification. Throughout completing an NVQ, the learner will gather and provide evidence of their competency in their role.
These training courses and NVQs will support you in excelling in your career, you just need to decide which one is right for you!
Overall, being a site manager within the construction industry can be a challenging yet rewarding career. However, by obtaining the necessary qualifications, gaining experience and developing essential skills, you can become a successful site manager and oversee construction projects from start to finish.
Back to News
View Our Courses