Fire Prevention in the Home
How can you protect your home from fire?
To protect your home from fire you need to know the hazards around you and the fire prevention methods you can put in place. If a fire starts in the home and you are not aware, the fire could spread very quickly and potentially be fatal.
What's the most common cause of house fires?
The most common causes of house fires come by accident. Take a look below at some of the biggest causes of house fires in the UK and some fire prevention tips.
Cooking Appliance Fires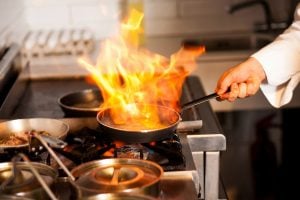 Leaving the kitchen unattended can be very dangerous; fires can occur spontaneously, especially fat-related fires. As oil gets hotter it smokes then bursts into flames.
What to do if an appliance catches fire?
To extinguish a fat fire, cover it with a damp cloth or fire blanket and turn of the power source.
How to prevent cooking appliance fires
Grease and fat can build up in the kitchen which can catch fire easily, clean the kitchen regularly to prevent this from happening. Knob covers can be purchased for the stove in the kitchen; these will stop children from turning them on and adults unintentionally knocking them on.
Smoking Fires
One of the biggest causes of home fires is by smoking or smoking materials. Smoking materials include the likes of cigarettes, cigars and pipes.
How to prevent smoking fires
Make sure that you fully extinguish your cigarette before leaving it. The lit cigarette could set fire to the furniture or anything in the bin you previously have disposed of. Don't smoke in bed, especially after drinking alcohol, a bedroom fire can spread very quickly and suddenly. Keep cigarettes, matches and lighters well out of the way of children to avoid similar accidents occurring.
Ask smokers to smoke outside and a good distance away from the building. Have a sturdy deep ashtray outside for discarded cigarettes.
Portable Heater Fire Prevention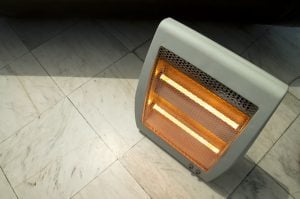 Make sure you keep anything that is meltable or combustible away from your portable heater. Avoid drying your clothes near them or have them too close to furniture and curtains. Always turn them off when you leave a room and don't leave them on overnight.
Candle Fire Prevention
Candles need to be treated they are a big cause of house fires. Keep them away from clothes and furniture and make sure that they cannot be easily knocked over. They should be blown out when you leave a room to remove any fire risk.
Home Fire Prevention Tips
Smoke detectors can be lifesavers and can detect a fire well before you do. Get a smoke alarm fitted on every floor of your home.
Test your smoke alarms regularly. If they stop working change the batteries immediately.
Mains operated alarms can be much more reliable than battery-operated alarms. Mains operated alarms can last up to ten years – this doesn't mean you shouldn't check them regularly.
Make sure you have an escape plan for everyone in your home and practice it. Make sure everyone knows how to get out of both the upstairs and downstairs of the building. Don't try and tackle a fire yourself, get out, stay out and call the fire brigade.
Never return to the house if there's a fire. Keep your distance and call for help.
To learn more about fire prevention and fire safety, why not attend a Fire Warden course with 3B Training. You can also find out more about the course here.
Fire Causing Habits Common in the Home
Fire causing habits can lead to serious incidents in the home. The thought of a fire happening in your own home is frightful and that is why you need to do all you can to prevent this from happening.
You may have unintentionally got yourself into a few bad habits around the home that could potentially be fatal. Take a look below at some common fire causing habits.

Leaving appliances running
Many people leave electrical appliances running whilst they go to the shop or even whilst they go to sleep. This is dangerous to do as you won't be able to react quickly, putting many at risk.
Dust on electronics
If there is dust build up on your electronics in your home; they could potentially catch fire if you haven't removed it. When your dusting around the house, always make sure you remember to dust your electronics too.
Having the wrong light bulb wattage
If you use bulbs that have too high of a wattage for the socket, an electrical fire is likely to occur. Even if you take the bulb out before a fire has occurred, there still could be permanent damage to your fixture.
Too many extension leads
Extension leads are a temporary solution for having a lack of electrical sockets. However, when extension leads are overloaded, this can cause a power overload which can cause a short circuit and then result in a fire happening.
Types of Fire Extinguisher and When to Use Them
It is important before attempting to tackle a small fire that you know which extinguisher to use. An extinguisher that is used on the wrong type of fire could be ineffective or potentially make things worse. Read more here.
Back to News
View Our Courses