How Social Media Affects Self-Perception
What is self-perception?
Self Perception is simply how you see yourself, and this can easily be affected by unrealistic ideas on social media.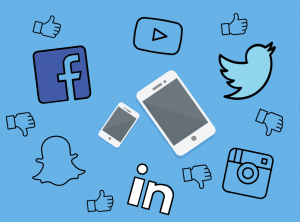 The theme for this year's Mental Health Awareness Week is body image, and social media plays a huge role in this by sometimes affecting our self-perception.
How does social media affect youth self-perception?
Undoubtedly social media can negatively affect a person's self-perception and mental health. This is caused by comparing ourselves to unrealistic images on social media of what we believe we should look like. This can then lead to dissatisfaction with our appearance and self-perception.
Comparing yourself to others on social media may have become an unintentional habit you have picked up. However,  it could be negatively affecting your mental health.
Why should you avoid comparison on social media?
What you see on social media isn't reality. Images can be edited and staged, so don't compare yourself to something that isn't real.
You never know what's going on in their life. The person who you think is happy with their body image and appearance may not be in reality.
It will only stall your progress. Don't waste your energy, focusing on other people's lives.
How to have a healthy relationship with social media
Take a look at some ways that lead you to a healthy relationship with social media without having to compare yourself to unrealistic ideas of perfection:
Avoid looking at images you know trigger your thoughts of comparison by unfollowing accounts on social platforms that you often compare yourself to.
Try to spend less time on social media. If you find this difficult, remove the apps from your phone, so they aren't as easy to log in to.
Try to understand why you are making comparisons because looking like they do won't make you happy.
Most importantly, stay focused on you!
How to talk to someone about their mental health
Not only can it be difficult for someone to open up about how they're feeling, but it can also be difficult to know how to go about supporting someone who is suffering from mental health issues.  Please take a look at some tips here that may make talking to someone about their mental health a little easier.
Back to News
View Our Courses