What is the Aim of a First Aid Course?
During an emergency, being equipped with first aid knowledge can be crucial to save lives. By attending a First Aid course with 3B Training, the delegate will gain skills, confidence and knowledge on how to save a life.
Find out more below, where we discuss what first aid training is, what the aims are and more…
What is first aid training?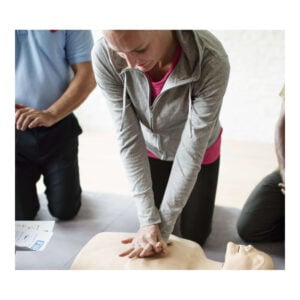 First aid is the initial care provided to an injured person before a medical professional arrives. Depending on the injury sustained, the type of first aid performed can be critical to the victim's survival.
First aid training equips the delegate to handle various situations confidently and appropriately, providing them with the fundamental knowledge and skills to preserve life.
First aid training courses cover topics such as:
What your roles and responsibilities will be after the training
Assessing the incident
How to deal with various injuries and situations
Dealing with someone who is in shock
There are different first aid training courses you can attend that help you to understand how to deal with different situations in different environments.
The courses end with an assessment. If you pass the course, you will be qualified to provide first aid to someone in need.
What is the aim of first aid? 
The overall aims of first aid are to preserve life, prevent deterioration and promote recovery.
By providing immediate and effective care within the time frame of you waiting for an ambulance,  you can help stabilise the patient and prevent the person from worsening until the medical professionals can take over.
First aid is not a substitute for professional medical care, but it is an immediate response to minor and emergency situations that is proven to be effective.
Learn more about the benefits of being a first aider.
What do you do on a first aid course?
What the course covers will depend on what course you choose. For example, our Emergency First Aid is for those working in low-risk environments, whereas the First Aid at Work is for anyone working in high-risk environments.
Our Emergency First Aid at Work course is one-day and teaches you basic first aid training. For example, the role of a first aider, assessing accidents, and dealing with minor injuries, choking, external bleeding and shock.
Our 3-day first aid course is better for those working in higher-risk environments. You will learn how to respond to a number of symptoms and injuries, recognise and provide choking first aid, deal with a heart attack, and much more.
Our First Aid at Work Requalification is a two-day course to renew your First Aid at Work certificate before it expires. This person will have previously completed a first aid course. This course will give you up-to-date industry knowledge and refresh the knowledge previously learnt from the course.
Find out more about what you need to know about a first-aider course.
All of the above courses are first aid qualifications that will teach you lifelong first aid skills and gain you your first aid certificate.
Whether you require first aid for personal use or require it in the workplace as a responsible person, we have courses that will suit everyone. Take a look at all of our first aid courses here.
What is the most important consideration when providing first aid?
Before approaching to perform first aid, it is important to assess the area for any hazards such as traffic or fire/smoke.
Once the assessed area is ok, proceed to check whether the person is responsive to make sure they receive timely medical care.
Ensure you are protecting yourself during carrying out first aid. You can do this by using equipment such as gloves and a resuscitation face shield whilst performing CPR. This ensures that you're minimising risks from being exposed to infectious materials.
Another thing to consider is that you're performing checks on the first aid equipment prior to any emergencies to make sure you can deliver the best first aid you possibly can.
What does ABCD stand for in first aid?
The ABCD in first aid is an acronym that outlines crucial steps to follow during an emergency. It stands for…
A for Airway
Tilt the head back and lift the chin to check if the airway is clear.
B for Breathing
If the breathing doesn't seem normal it might be time to go to CPR if trained.
C for Circulation
Check for pulse or movement. If none, begin chest compressions or CPR.
D for Defibrillation
If a defibrillator is available, use it as instructed and if necessary administer a shock.
Following this approach helps to assess the patient to gather information so you know how to treat them until a medical professional arrives.
What should be in a first aid kit?
Conducting stock checks of what is in your first aid kit is essential, as it's a requirement for workplaces to have a suitably stocked first aid kit available to use. Find out more about a first aid box contents.
How much is a first aid course?
The price of a first aid course varies depending on the course you choose. You can find the price for public courses and upcoming dates for each course via the links below…
If you would like to book any of the above courses but as in-house training, complete the enquiry form on the course page and a member of the 3B team will be in touch with a quote.
We also offer eLearning versions of first aid courses, which we would recommend completing as a refresher in between taking a classroom course and your certificate expiring.
Overall, first aid saves lives and is a great skill to obtain. Whether you're using this skill in the workplace or daily life, being prepared with the necessary skills and resources ensures you can make a positive difference when it matters the most! Let's create a safer environment for all.
Back to News
View Our Courses