Halloween Safety & Spooky Statistics
It's not just the ghosts and monsters that make Halloween scary.
Halloween safety is important. Halloween can be a very dangerous time of year for children if they are not careful. Walking round in the dark and going to strangers can leave them vulnerable to all types of danger if they aren't properly educated on the dangers. 
Take a look at some important Halloween safety tips and statistics here.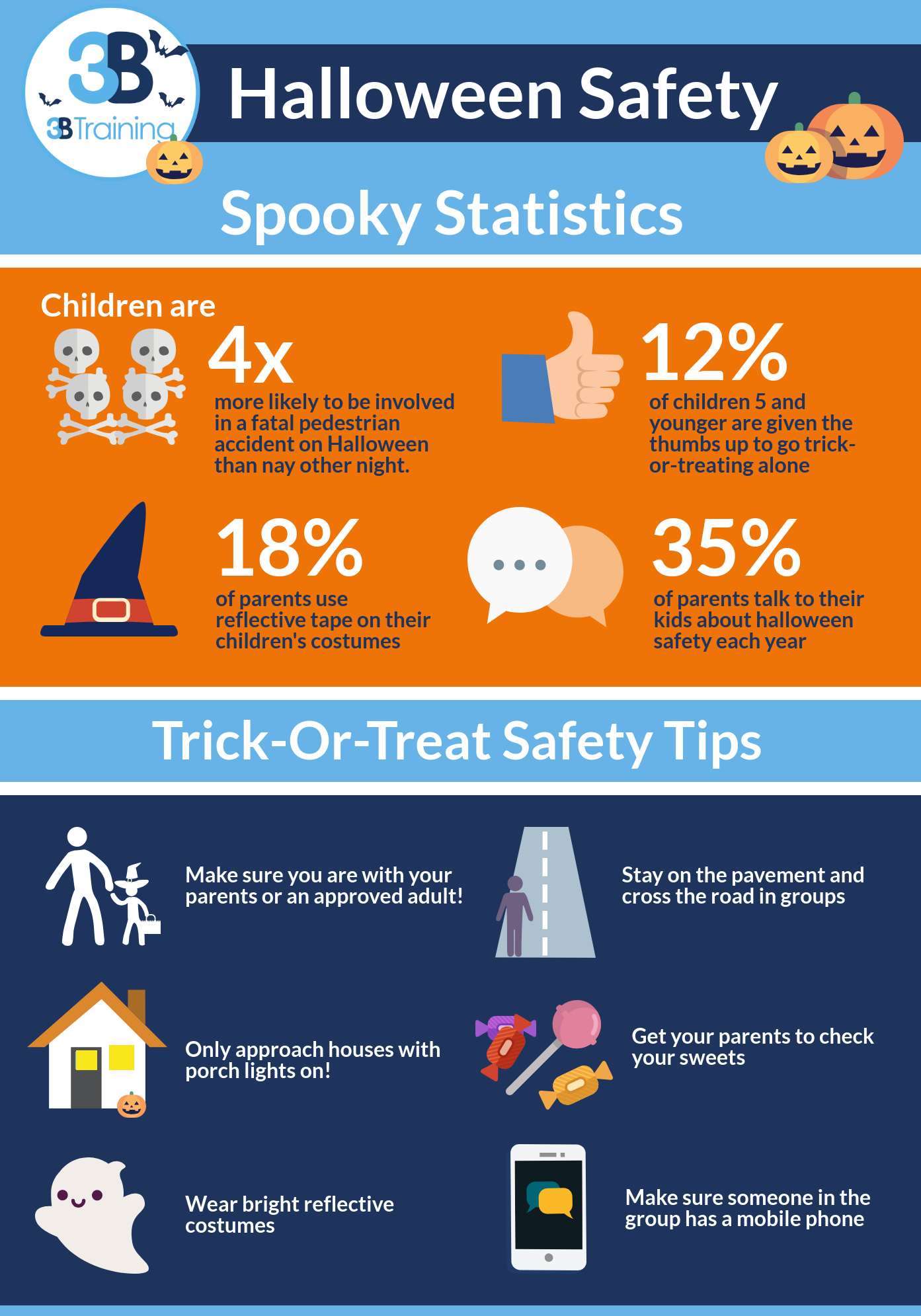 Halloween Safety: Spooky Statistics
Children are four times more likely to be involved in a fatal road accident on Halloween night over any other night.
12% of children aged five years old and under are allowed to go trick-or-treating alone.
Only 18% of parents ensure that reflective tape is used on their children's costumes.
Only 35% of parents each year, teach their children about Halloween safety.
Trick-or-Treating Safety
Trick or Treating at Halloween is great fun for your children, however, there can be various safety hazards that could occur on the night.
Take a look below at our Trick or Treating Safety Checklist to make sure your Halloween is as safe as possible for your children.
Halloween Makeup
Some Halloween makeup and face paints can affect the skin. So, to prevent this from happening on the day, try a little bit of the makeup on your children beforehand to see if it causes a reaction to the skin.
Stick together
No children under the age of 12 should be trick or treating on their own. It is vital that they go trick-or-treating with an approved adult to ensure their safety. Never approach houses that don't have outside lights on. Avoid dark driveways and porches and never go into a stranger's home.
Walking around the streets at night can be very dangerous for pedestrians. Stay on the open lit pavements and don't take any shortcuts through dark alleys and gardens.
Make sure you all have mobile phones available. In the case of an emergency, they may be vital in calling for help or emergency services.
Road Safety
The rules of the road still apply on Halloween… make sure you cross the road in groups and on designated crossings. Make yourself known by the traffic and don't run into the road, especially if you are not wearing reflective clothing.
Furthermore, if their costumes aren't already bright, make sure you add something reflective so they are visible to cars
Check the treats
Before your children eat their treats, you should inspect what they've got. Throw away any packages that look like they may have been opened. It's important they only eat factory wrapped treats.
Halloween Costumes
When purchasing Halloween costumes make sure they fit your children correctly. Doing this will help them to avoid tripping over when they're out trick or treating. It's also important to choose non-flammable fabrics like 100-per cent synthetic nylon, acrylic and polyester.
Pet Safety is important during Halloween
Take a look at some helpful pet safety tips on how to keep your furry friends happy and stress-free this Halloween.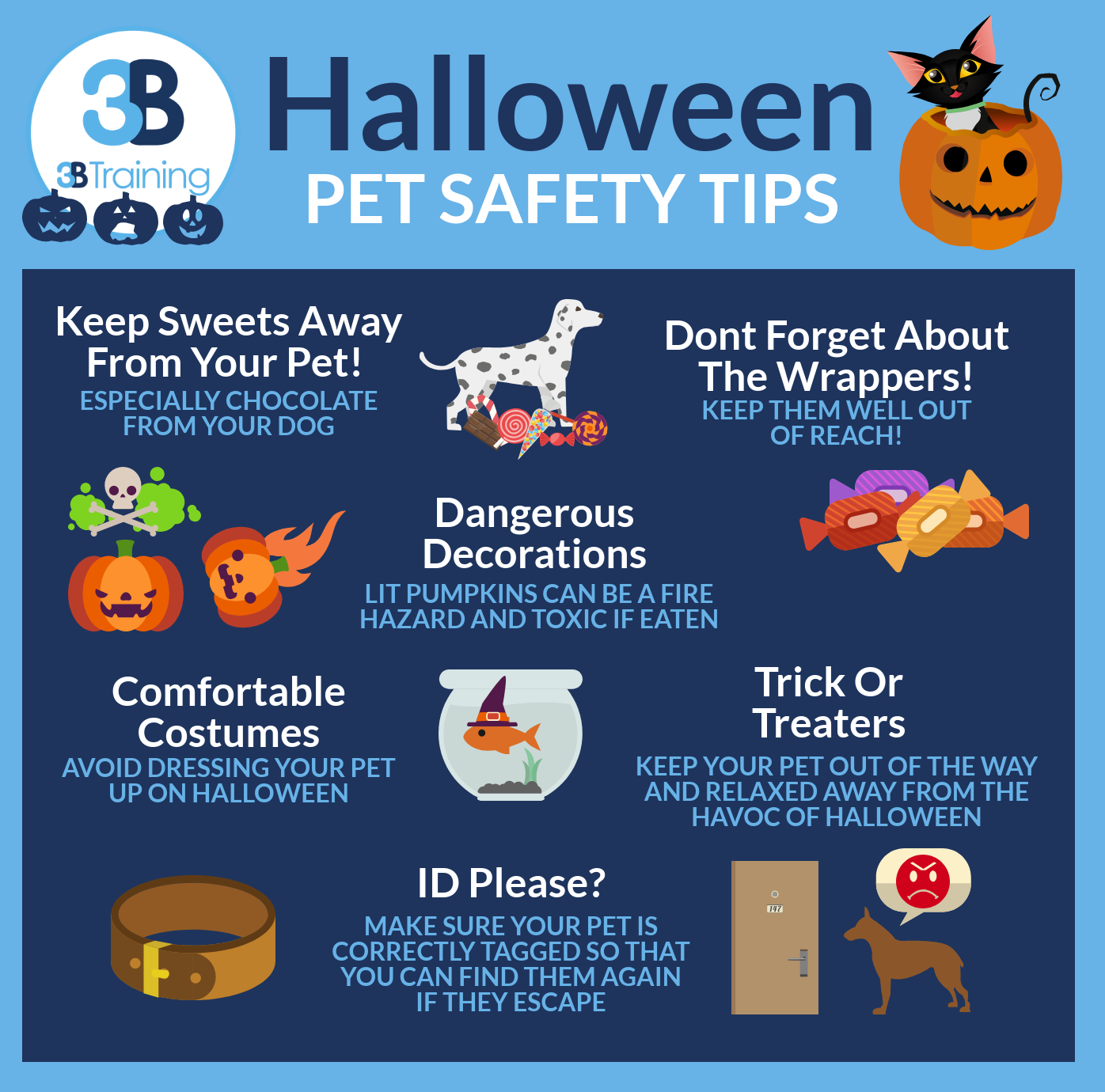 Keep Sweets Away From Your Pet
Obviously, sweets and Halloween come hand in hand, so you need to be mindful about your pet getting hold of them. Keep bowls off the ground and out of reach.
Chocolate or anything containing xylitol can be poisonous to your pet. Discarded sweet rappers that are lying around can cause intestinal blockages if swallowed. Make sure your children also know this to prevent them from feeding them to your pet.
Dangerous Decorations
Decorative pumpkins are actually more dangerous than they appear. A candle inside a jack-o-lantern can be enticing for a pet, which creates a huge fire hazard. To reduce the hazard when one is tipped over, replace the candle with a battery-powered light. Chewed wires can also lead to a dangerous cut, burn or electric shock.
Treat the scary carved face in a pumpkin as a toxic warning sign. Pumpkins can be toxic to your pets if they decide to have a nibble on one for a quick snack. Out of reach ornaments or cuddly toys are great replacements for hazardous decorations.
Comfortable Costumes
In an ideal world, you shouldn't be dressing your pet up. Costumes can cause unneeded anxiety and stress for your pet. If you have one of those wacky pets who love to be dressed up make sure they can move, breath, eat, drink and go to the toilet properly. Keep an eye out for anything that can fall off their costumes and cause your pet to choke.
Trick Or Treaters
Halloween can be hectic for your pet. The constant knocking at the door and strangers approaching the house can be very distressing. A great way to lower your pet's stress can be removing them from the high traffic area. Take them out of the action and leave them in a nice quiet room. Calming diffusers can be a great way to get them to settle.
ID Please?
The continuous havoc of Halloween can easily startle your cat or dog. A shock can lead them to run away and get lost. Make sure that your pet is tagged and microchipped in case they make a break for it.
Back to News
View Our Courses