Halloween Safety: Spooky Statistics
It's not just the ghosts and monsters that make Halloween scary.
Halloween safety is important. Halloween can be a very dangerous time of year for children if they are not careful. Walking round in the dark and going to strangers can leave them vulnerable to all types of danger if they aren't properly educated on the dangers. 
Take a look at some important Halloween safety tips and statistics here.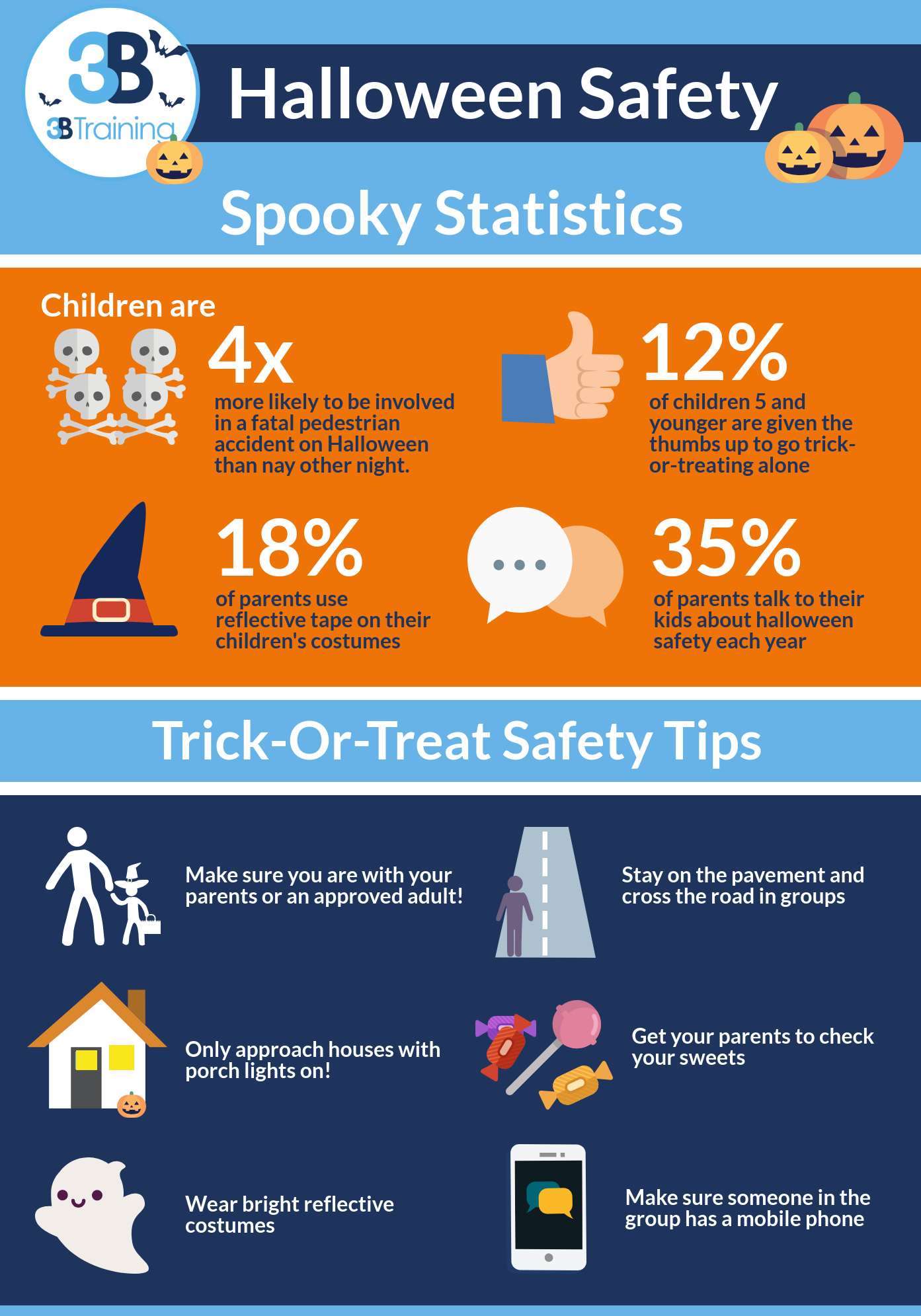 Halloween Safety: Spooky Statistics
Children are four times more likely to be involved in a fatal road accident on Halloween night over any other night.
12% of children aged five years old and under are allowed to go trick-or-treating alone.
Only 18% of parents ensure that reflective tape is used on their children's costumes.
Only 35% of parents each year, teach their children about Halloween safety.
Trick-or-Treat Safety
No children under the age of 12 should be trick or treating on their own. It is vital that they go trick-or-treating with an approved adult to ensure their safety. Never approach houses that don't have outside lights on. Avoid dark driveways and porches and never go into a stranger's home.
Walking around the streets at night can be very dangerous for pedestrians. Stay on the open lit pavements and don't take any shortcuts through dark alleys and gardens.
The rules of the road still apply on Halloween… make sure you cross the road in groups and on designated crossings. Make yourself known by the traffic and don't run into the road, especially if you are not wearing reflective clothing.
Taking sweets from strangers can be risky. Make sure an adult has checked your treats thoroughly to ensure they are safe to eat.
Make sure your costume is fit for purpose, make sure you can be easily seen and the costume doesn't provide any trip hazards for you or others.
Last but not least, make sure you all have mobile phones available. In the case of an emergency, they may be vital in calling for help or the emergency services.
Road Safety Tips
For more road safety tips, take a look at our blog here.
Source – https://www.safekids.org/
Back to News
View Our Courses