NEBOSH Certificate Training
What is the NEBOSH Certificate?
Many are aware of the NEBOSH Certificate but a lot of people don't know exactly what it is and how the qualification can benefit you.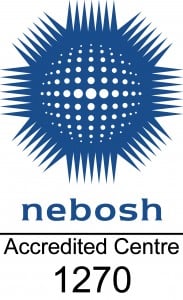 NEBOSH Certificate: The National Examination Board in Occupational Safety and Health or NEBOSH, doesn't deliver health and safety training courses. Instead, they provide a syllabus, exams and assignments to course providers in order to meet health, safety and environmental needs.
Those working in health and safety are often required to hold the relevant NEBOSH qualification for their job role. Delegates can progress by attending further NEBOSH qualifications. The qualifications are also recognised by professional membership bodies including the likes of IOSH.
Course Content
Unit 1: NGC1 – Management of Health & Safety
Foundations in Health & Safety.
Health & Safety Policy.
Organising for Health & Safety.
Promoting a Positive Health & Safety Culture.
Risk Assessment.
Principles of Control.
Monitoring, Review and Audit.
Incident and Accident Investigation, Recording and Reporting.
Unit 2:  NCC1 – Managing and Controlling Hazards in Construction Activities
Construction Law and Management.
Construction Activities.
Movement of People and Vehicles.
Manual and Mechanical Handling.
Work Equipment.
Electricity.
Fire.
Chemical and Biological Health Hazards.
Physical and Psychological Health Hazards.
Working at Height.
Excavation Work and Confined Spaces.
Demolition.
How can NEBOSH benefit you?
Many larger organisations choose NEBOSH certificate level qualifications as a key part of their supervisors' or management development program. By ensuring that line managers have a sound understanding of the principles of risk management, they can, therefore, build an effective safety culture in the company. Many individuals choose to study NEBOSH to further their career and employment prospects.
The NEBOSH National Diploma is the must-have qualification for safety and health practitioners. Its practical approach promotes the application of the knowledge acquired on the course to problem-solving within the workplace. It is an extremely flexible course and therefore can be completed over various lengths of time. Delegates can take the course in many languages. The tutor can be tailor the course to suit your personal industry requirements.
Course Options
The tutor delivers NEBOSH  in a range of different formats:
The Block Course: this course involves the delegate sitting the NGC1 and NGC2.
The Blended Learning format is the same as the block course. It is delivered in a classroom and online format, whereas the block course is all classroom based.
The Construction Certificate: this course involves the delegate sitting the NGC1, NGC2 and the NCC1.
To book onto a NEBOSH course visit our courses page for the relevant contact details.
Back to News
View Our Courses