Sun Protection Tips For Outdoor Workers
Sun protection is very important if you are someone who works outside regularly.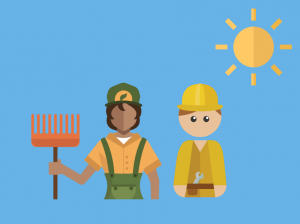 As an outdoor worker, you are at a higher chance of being exposed to more sun than is suitable for you. Having a tan is a sign that shows your skin has been damaged because of sun exposure.
Do you know how to reduce health risks when working outdoors in the sun?
Take a look below at some Sun Protection Tips…
Take breaks in the shade when possible instead of staying in the sun.
Avoid dehydration by drinking plenty of water.
Make sure you wear sunscreen with a minimum of SPF 15 and reapply at least every two hours.
The sun's rays are most intense between 10:00 AM and 16:00 PM, so if possible, try to plan your workload around these times.
Make sure to check your skin regularly for any unusual spots or moles. If you do come across something that is changing in size or colour and has started to itch or bleed, see your doctor as soon as possible.
What are the effects of too much sun exposure?
Sun damage to your eyes – ultraviolet light from the sun can damage the retina which is the back of the eye.
Heat exhaustion – this can be caused by excessive sweating which is likely to occur if you are an outdoor worker.
Sunburn – too much sun exposure will cause sunburn and its symptoms will only usually appear around four or five hours after.
Wrinkles – ultraviolet light damages elastic tissue and collagen in the skin which will cause this.
Skin cancer – this is the worst effect of long term sun exposure. The older you are, the greater risk you are at of developing it, as sun damage to the skin will develop over the years.
Skin Cancer in the Construction Industry
Take a look at our blog here which raises awareness of skin cancer in the construction industry and the dangers of not looking after your skin when you are exposed to the sun.
Back to News
View Our Courses