Why Is A Health And Safety Induction Important?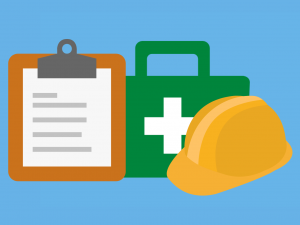 A health & safety induction is an important procedure to help prevent workplace risks. When a new person attends an induction they are being made aware of the risks that they may encounter whilst working.
What is a health and safety induction?
A health and safety induction is a form of training for new employees. A company would use the training to highlight safety risks in the workplace. They would also use it to provide the relevant training to help you control those risks. In high-risk environments, site health and safety inductions are a legal requirement.
What should be included in a site induction?
A site induction needs to be as informative as possible; therefore you need to include important information in the content. The induction should include:
General health and safety relating to the company
Premises-related health and safety
Job-specific health and safety
General health and safety relating to the company
You must inform the employee of your company's health and safety policy and how they can access it. You must also make them aware of any other policies such as mental health, drugs and alcohol and equality and diversity.
This information can be found in the below eLearning Courses.
You should include the company's safety management in the induction. Doing so will inform the new employee who to speak to about safety issues. Employees also have their responsibilities under the Health and Safety at Work, etc Act 1974; therefore you need to make them aware of them.
Premises-related health and safety
This section would include fire safety arrangements for the company. As well as the on-site first aiders, accident reporting procedures and general smoking and welfare information.
New employees should attend the below training courses to be fully aware and prepared for any on-site risks and hazards.
Job-specific health and safety
Job-specific health and safety information helps the employee to begin working safely. In most cases, this training would be highly job-specific and would cover COSHH hazards, equipment hazards and safe working practices and any other potential hazards such as working at heights, confined spaces or sharps.
What is an induction checklist?
You would use an induction checklist to ensure that all new employees receive all the information that they need to start their new role. Each point is has a date and time in which it should be completed. This checklist is also used as legal documentation to show that the individual has been trained correctly and equally.
In summary, a health and safety induction is very important. It helps to keep everyone safe and gives you peace of mind knowing that everyone has the same base knowledge. By delivering a good induction, you are giving that new employee familiarity of the workplace and therefore setting them up to start work.
How To Improve Workplace Health and Safety
A good health and safety induction isn't the only way to make the workplace safer. Take a look at our blog on how you can improve the workplace safety culture.
Back to News
View Our Courses