How Do I Become a Health and Safety Officer?
You can become a Health and Safety Officer either by completing a qualification or by working your way up whilst studying. The training course you complete will depend on the sector that you work in.
What does a Health and Safety Officer do?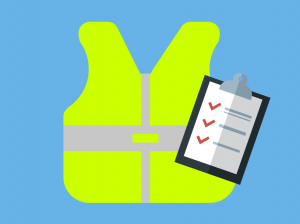 A Health and Safety Officer aims to prevent accidents and injuries in the workplace. They do this by implementing policies for employers and employees to follow. This makes sure that everyone is working in a safe environment.
Health and Safety Officers can specify in one area or be involved in everything relating to health and safety in the workplace. Common responsibilities include…
Implementing efficient policies and procedures.
Regular risk assessments and inspections.
Investigating incidents and writing up accident reports.
Providing employees with in-house training on safety issues
Advising on the handling and disposing of hazardous substances.
What is required to be a Health and Safety Officer?
You don't need a degree for this role. Although, you will need qualifications that are specific to the health and safety industry. Level 3 is generally a good level of qualification.  For example, this can include…
Level 3 Award in Health and Safety in the Workplace
If you are working in the role full time you may want to complete the Level 6 NVQ Diploma in Occupational Health and Safety Practice instead.
Certain skills and attributes will also be required for the job role, such as…
Good communication
Attention to detail
Problem-solving
Good level of physical fitness
Time management
Organisation
How much does a Health and Safety Officer earn?
The average salary is £32,500. However, this would be dependent on the location of your role and experience.
What are the working hours for this job role?
Usually, the working hours are Monday to Friday, from 9 AM till 5 PM. However, depending on your place of work, you may have to work irregular hours. For example, in situations where you must work shifts or you're on-call in case of any emergencies or accidents.
NEBOSH Jobs and Career Paths
Take a look at what other job roles you can move into by obtaining the NEBOSH Certificate here.
Back to News
View Our Courses