How to get a CISRS Card
What is a CISRS Card?
The CISRS Card gets its name from the training scheme Construction Industry Scaffolders Record Scheme. CISRS is the UK's industry scheme for scaffold training, CISRS provide a range of skills cards for those in different scaffolding related roles.
CISRS Scaffolding Labourer Card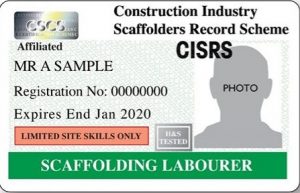 This card is designed for site operatives and labourers who work on scaffolding operations. If you hold this card; you cannot work from anywhere other than a safe and secure place such as a solid floor or fully erected scaffold surface. You are also cannot put up, take down or alter scaffolding.
The card is valid for 5 years and can only be obtained by taking the CITB Health, Safety & Environment Test and COTS within 2 years.
CISRS BASE Card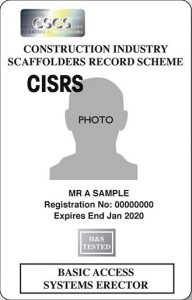 The Basic Access System Erector Card is supplied to workers who are not scaffolders but do make alterations to scaffolding in their work with a specific scaffold system product. The card is for these workers whilst they are completing their BASE training. The structures that these specific workers work on have strict limitations.
To obtain this card you must complete the 5 day BASE course and your CITB Health, Safety & Environment Test within two years of applying.
CISRS Trainee Scaffolder Card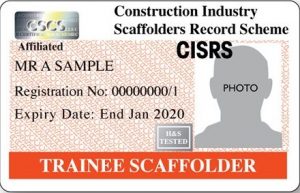 The Trainee Card is required for those who need a skills card whilst they are undertaking training to get their CISRS Scaffolder Card. Whilst holding this card, you can only conduct your work under direct supervision from a more qualified worker.
You must hold the Trainee Card for 6 months before attending part one of training. CISRS split the Trainee Cards into two parts. To obtain card one you must take your touch screen test and complete the COTS course in two years. To get your part 2 card you need to complete part one of a CISRS course. Within the 18 month validity of the card, a Trainee holder must complete the following:
COTS
NVQ Level 2
CISRS 1 Day Skills Test
CISRS Scaffolder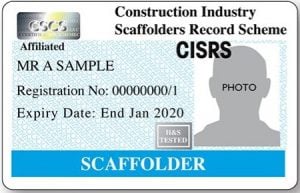 On completion of the relevant CISRS training (see above); you can then apply for your Scaffolder Card. With this card, you are qualified enough to conduct scaffold operations and lead a team in basic scaffold operations.  The card has a lifespan of 5 years before it requires renewal.
CISRS Advanced Scaffolder Card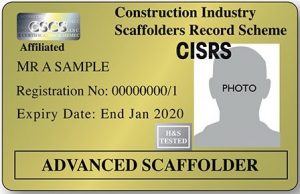 Before applying for the Advanced Scaffolder Card you must have been a CISRS Scaffolder for at least a year. By obtaining the card you will competent enough to lead a gang in all forms of scaffold operations.
To obtain the card you need to have passed the CITB Health, Safety & Environment Test, an NVQ Level 3 in your occupation, the CISRS 2 Day Skills Test and have passed the Advanced Scaffolding Inspection Course.
Which Skills Card Is Right For Me?
For more information on other construction industry skills cards; take a look at our informative guide here.
Back to News
View Our Courses