Bromak Recruitment
About Bromak Recruitment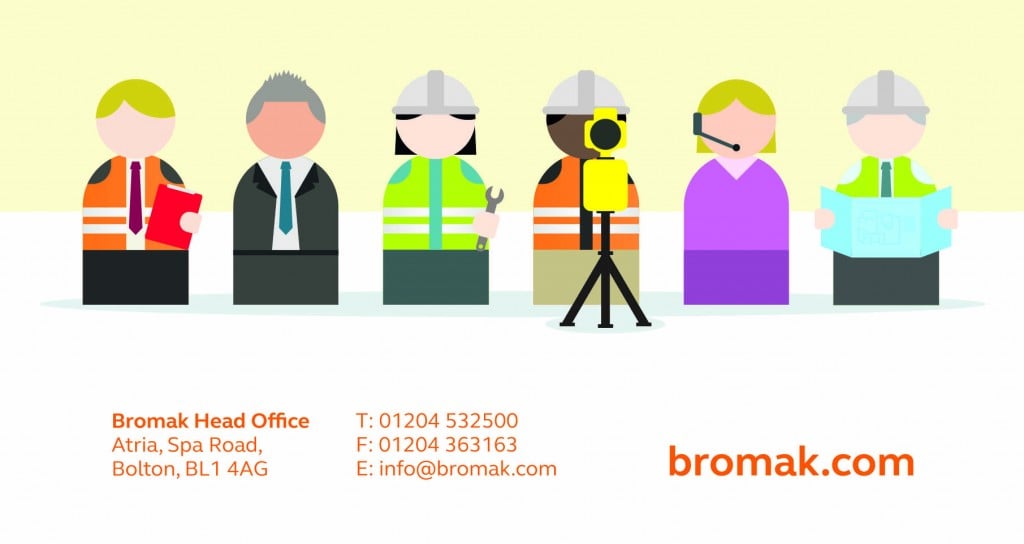 Bromak Recruitment is a leading construction and social housing recruitment specialist. They have a proven track record of supplying both permanent and temporary candidates into some of the UK's best-known organisations. They supply staff at all levels, from trades and labour to management and commercial staff. All of this is provided across their network of branches covering the UK.
They work with clients and candidates across all areas of the construction industry. Including house building, social housing, design and build, facilities management, civil engineering, building services, shop fitting and office fit out.
Bromak and 3B Training
Both Bromak and 3B benefits from this business partnership. Bromak often direct their candidates to 3B for refresher courses or to expand their skill set, renew tickets etc. While 3B can offer job seekers support by directing them to Bromak.
Bromak and 3B have worked alongside each other for a number of clients successfully combining training and recruitment. One example of this partnership is Achieve North West. They are an organisation tasked with getting ex-offenders back into work. 3B provides a whole host of training courses to Achieve delegates. Courses such as Health and Safety Awareness, Abrasive Wheels, Working at Heights and Asbestos Awareness amongst others. They will do this while Bromak aims to get the candidates to work after the training is complete.
3B has also delivered training to a number of Bromak's employees. A number of Bromak's Recruitment Consultants have received Face Fit training. This enabled them to offer it to their candidates out on site, which is a great value-add for a recruitment agency. Bromak's Quality Manager has also undergone IOSH and NEBOSH Training through 3B.
Bromak Recruitment is based nationwide in the likes of Bolton, Liverpool, Sheffield, Lichfield, Watford and Durham. They share some of their centres with 3B Training and can help you with your recruitment needs while we can with training.
Find a Course
Next Available Courses
SMSTS

Web - 23 Sep 2023

£530 + VAT

SMSTS

Web - 23 Sep 2023

£530 + VAT

Temporary Works Co-Ordinator

Online - 25 Sep 2023

£425 + VAT

EUSR UE Category 1: Locate Utility Services

Leigh - 25 Sep 2023

£165 + VAT

First Aid at Work Requalification

Liverpool - 25 Sep 2023

£165 + VAT

SSSTS

Derby - 25 Sep 2023

£288 + VAT

Temporary Works Co-Ordinator Refresher

Online - 26 Sep 2023

£261 + VAT

EUSR UE Category 2: Implement Safe Excavating Practices

Leigh - 26 Sep 2023

£280 + VAT

Basic Scaffolding Inspection

Blackburn - 27 Sep 2023

£540 + VAT

IOSH Managing Safely®

Liverpool - 27 Sep 2023

£468 + VAT

Health and Safety Awareness

Doncaster - 28 Sep 2023

£142 + VAT

SEATS

Online - 02 Oct 2023

£180 + VAT

Emergency First Aid

Wigan - 02 Oct 2023

£105 + VAT

SSSTS

Manchester - 02 Oct 2023

£288 + VAT

SMSTS

Liverpool - 02 Oct 2023

£530 + VAT

SMSTS

Wigan - 02 Oct 2023

£530 + VAT

Temporary Works Co-Ordinator

Leeds - 03 Oct 2023

£425 + VAT

First Aid at Work

Wigan - 03 Oct 2023

£230 + VAT

Temporary Works Supervisor

Online - 04 Oct 2023

£265 + VAT

Temporary Works Co-Ordinator

Online - 04 Oct 2023

£425 + VAT 3 PLACES LEFT!

Health and Safety Awareness

Wigan - 04 Oct 2023

£142 + VAT