Welcome to our new training venue in Blackburn
In July 2022, 3B Training acquired Higher Safety & Training Solutions in Blackburn.
Our new Blackburn venue enables us to provide a broader training offering to our existing clients, as well as  our own accredited training courses to the customers of Higher Safety & Training Solutions.
What facilities are available at our Blackburn venue?
We have excellent facilities at our purpose-built Blackburn venue including training rooms, scaffolding set up and confined space set up. We also have a MEWPS and a roof access set up  with available space to perform practical training sessions. This allows you to use equipment that you will find on most construction sites.
What training courses are available in Blackburn? 
At 3B Training Blackburn, we can deliver courses such as…
CITB Accredited Courses
Our CITB Health & Safety Awareness course is suitable for individuals who want to gain the CSCS Green Labourer Card to get on a construction site. If you are new to the construction and civil engineering sector this course will provide you with lots of health and safety knowledge.  This will allow you to work safely on-site.
The CITB Directors Role in Health & Safety is suitable for company directors and senior managers active in a health and safety  strategic role in construction who are looking to understand their health and safety responsibilities and the consequences of not following them should attend this course.
Our CITB SMSTS or Site Management Safety Training scheme is a five day training course for site managers. This SMSTS course is created for managers who are responsible for the monitoring, organising and controlling of groups or staff. By taking this course you will learn all the relevant health and safety legislation that affects working in these industries. You will have the necessary tools needed to maintain a safety culture within your workplace.
The CITB SSSTS is a two-day health & safety course for supervisors in the construction sector. This course provides an introduction to health and safety. Site Supervisors or those who are looking to become a site supervisor should attend this course. It is highly informative and provides all the information you would need. This involves learning how to improve health and safety to supervise effectively.
The CITB SMSTS Refresher is a two-day training session that allows you to maintain your SMSTS certification. This means not having to take the full five-day course again. This training goes into greater detail than the Site Supervisors course. This satisfies the rising demand for documentation of appropriate health and safety management on the job site. Refreshing your knowledge in managing site health & safety will ensure that you are still performing your duties in accordance with current legislation and possessing a highly regarded credential.
First Aid Courses
We can offer the First Aid at Work  course which is suitable for people who want to become qualified as a first aider in their place of work, people in hazardous environments should attend this course.
Emergency First Aid is also available which is suitable for anyone who would like to become an accredited first-aider, this course will help meet the requirement for trained emergency first aiders in your organisation. The skills that you'll learn could potentially help save somebody's life whether that's in or out of work.
You can attend our Mental Health First Aid course at Blackburn which is suitable  for anyone who would like to become an adult mental health first aider. Having these skills to spot signs of poor mental health can potentially stop somebody's issues from becoming worse or severe. This qualification is fondly looked upon throughout all industries. Since mental health issues concern businesses throughout the country, this qualification can add an "extra string to your bow". Especially when finding employment or progressing in your role.
Scaffold & Working at Heights
Our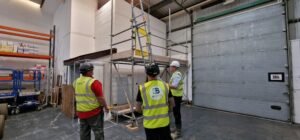 access within their roles. It teaches and trains them on how to operate mobile operating elevating work platforms.
The IPAF 3a & 3b course is suitable for individuals that manage MEWPS roles. This  training is designed for people who operate mobile elevating work platforms within their role.
Our scaffolding set up in Blackburn allows us to offer Basic Scaffold Inspection courses. This course is delivered over 3 days and suitable for those who conduct scaffolding inspections in their job role.
We also offer CISRS (COTS) training. A one day course suitable for those who are looking to obtain the CISRS Scaffolder Labourer or CISRS Scaffolder Trainee card.
Construction & Utility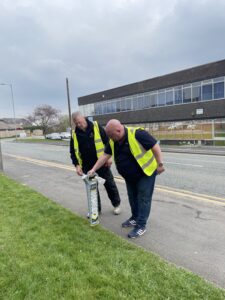 CAT & Genny Cable Avoidance Training Course is suitable for supervisors and operators who use cable avoidance tools and signal generators in their work. This course is designed to give operatives and supervisors knowledge of conducting cable avoidance operations to locate underground services.
Abrasive Wheels is suitable for people who use abrasive wheels or other grinding and cutting tools in their work should attend this course. This includes machine operators and the managers and supervisors of the operators.  This is a classroom-based course. It ensures that you are competent and safe when using and inspecting different abrasive wheel types.
UKATA Non Licensed Asbestos Training is suitable for people who's role involves taking part in construction training work that may expose you to asbestos. Other people in job roles such as demolition, refurbishment and other related work will also benefit from taking this course. This course is ideal for anyone carrying out non-licensed work with asbestos containing materials.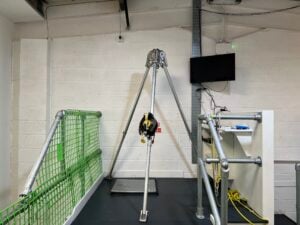 Our confined space set up at Blackburn allows us to offer  Low Risk Confined Space Training  for those who are working in confined spaces that are low risk environments with mechanical or suitable ventilation. It also allows us to offer Medium Risk Confined Space Training for those who work in a confined space where they might enter the space using mechanical or manual access equipment or where they might require a breathing apparatus.
To enquire about confined space training contact a member of the team on 0330 912 0650.
Back to News
View Our Courses