Construction Safety Signs & Their Meanings
Construction safety signs must follow a particular shape and colour to express a certain message. It's important if you are on a construction site that you understand the meaning to keep yourself and others safe. 
Please take a look at our guide to make sure that you are meeting the relevant legal duties with your safety signs.
What are safety signs?
Every employee must know the potential hazards they could face in their occupation. They need safety signs to know how to react in the event of an emergency and what they need to do to avoid them in the future. There are five different types of safety sign. Below are the required standard formats for signs so that the message of each sign is easily and quickly understood (see below).
What are the types of safety site signs?
Different types of safety signs include:
Warning Signs
Mandatory Signs
Prohibition Signs
Safe Condition Signs
Fire Equipment Signs
Warning Sign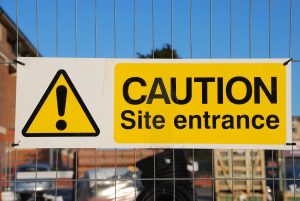 A warning sign alerts you to possible dangers to guard against such as "Danger". The shape must be a yellow triangle with a black border. Any text or images must also be black on a yellow panel.
Examples of using a warning sign:
Danger
High voltage
Asbestos
Work overhead
Wet floor
Fragile roof
Harmful chemicals
Barbed wire
Highly flammable gases
Under construction
Mandatory Sign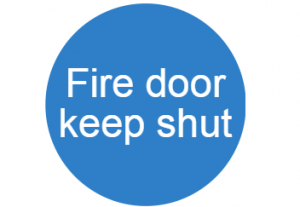 Mandatory signs are the blue and white signs on site. They display actions you must obey to keep yourself safe such as "Hard Hats must be worn". The mandatory sign is a blue circle with white images or wording.
Examples of using a mandatory sign:
Hard hats must be worn.
Fire door keep shut
High visibility clothing must be worn.
Wear gloves
Wear ear protectors
Safety harness must be worn.
Prohibition Sign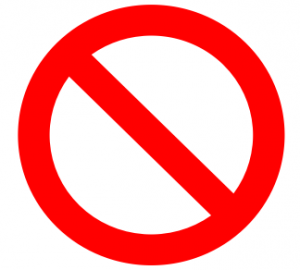 A prohibition sign displays actions you must avoid, such as "No Entry". The colour of the prohibition sign must contain a red circle with a red line across. All images must be black on a white background. Any wording must be white text on a red panel.
Examples of using a prohibition sign:
Stop
No entry
Speed limit
No smoking
No parking
Safe Condition Sign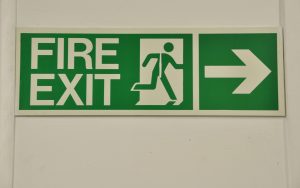 The safe condition sign contains information relating to emergency action and must be a rectangle such as "Fire Exit".  The symbol must be green with white wording or images.
Examples of using a safe condition sign:
Fire exit
First aid
Spill kit
Fire assembly point
AED
Emergency shower
Fire Equipment Sign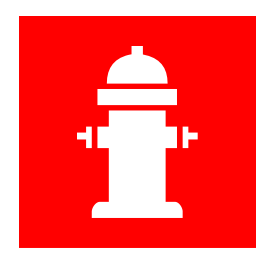 The fire equipment sign is used to display the location and details of fire equipment. The fire sign is a red rectangle with white wording or images. For more on the benefits of fire safety in the workplace, take a look here.
Examples of using a safe condition sign:
Fire alarm
Hydrant
Extinguisher
Fire blanket
What do the colours mean on safety signs?
Red – Danger Alarm, Prohibition, Do Not, You Must, Stop It If You Are
Yellow or Amber – Warning, You Have Been Warned, Be Careful, Be Aware
Blue – Mandatory, You Must Do, Obey
Green –  Emergency Escape, First Aid, No Danger, Follow This Sign To Reach Safety
Red (fire-fighting signs) – Here Is The Fire Equipment
The ISO 3864-1 determine the colour and shape of a safety sign, and the ISO 3864-3 determine the design.
What is a combination sign?
A combination sign is a safety sign used to give multiple messages. A combination sign, for example, can incorporate a few sign types on a construction site:
Warning sign – Danger, this is a hazardous area.
Prohibition sign – No authorised entry.
Mandatory sign – All visitors please report to the site office.
When are safety signs needed?
You need to follow the below steps to determine if to use a safety sign:
Firstly you need to conduct a risk assessment: by doing this, you will be able to spot the potential hazards in the workplace and can note the most significant areas in need of a safety sign. When assessing the area, you need to consider the likes of flammable atmospheres, electricity and hot surfaces.
Make sure you update any existing signs and that you reassess their surrounding area. When doing this also make sure each sign is still relevant so that other important signs are not depreciated. Also, make sure you clean and/or replace all damaged, defaced, discoloured and unclean signs.
Make sure that you have a control measure put in place with every potential hazard you have spotted. You cannot simply put up a warning sign and not deal with any potential consequences.
It would be best if you paired each safety sign with a logical sign with a solution. E.g. A "high noise area" would be pair with a "hearing protection must be worn sign".
Finally, make sure you use road signs on entrances and site roads; this will be useful for when you are targeting drivers.
What is ISO 7010?
ISO 7010 is a safety standard that safety signs must meet across Europe. ISO 7010:2011 requires signs to be available for the prevention of accidents, information on health hazards, fire protection and emergency evacuation.
What is BS EN ISO 7010?
BS EN ISO 7010 is the UK's selection of symbols designed to go on safety signs in line with BS ISO 3864 series for design principles. The standard is used to make all symbols recognised internationally.
Safety Signs Mini-Audits
An employee should check that all signs are working properly, E.g. make sure that everyone is wearing the correct clothing such as PPE if a sign states so. Make sure that all signs that give directions that actually lead to the relevant area/equipment and all emergency exits lead to safety.
On-Site Job Roles in The Construction Industry
Take a look at what you can potentially earn from on-site job roles in construction here.
Back to News
View Our Courses