What are COSHH Responsibilties?
When it comes to handling and managing substances hazardous to health, The Control of Substances Hazardous to Health (COSHH) Regulations 2002 play a crucial role in keeping everyone safe.
Ensuring the safety and well-being of employees in the workplace is highly important, as failure to do so can result in injuries, absence and possibly fees from negligence.
Read more to learn about what hazardous substances are, what substances COSHH covers and the COSHH responsibilities.
What are Hazardous Substances?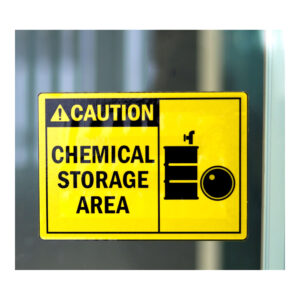 Hazardous Substances are anything that causes harm to you directly or indirectly. These can come in various forms which we discuss further below.
Some hazardous substances can actually be found in the workplace and if you are exposed to them, they are more likely to negatively impact your health.
This is why it is crucial to get the correct training to better understand these substances to minimise health risks.
If you require training on this we recommend taking our COSHH Awareness Course. This course provides you with all the up-to-date knowledge you need to know to keep yourself safe from hazardous substances and how to follow COSHH rules and regulations.
You can usually identify hazardous substances in the workplace by reading product labels and safety data sheets, but if you have any concerns about a substance, you should contact the supplier to gain more information.
In your workplace, you may want to consider the processes you are doing, as tasks such as cutting or grinding can potentially produce harmful substances.
What are COSHH responsibilities?
When working with hazardous substances, everyone has their part to play to make sure everyone is safe. It is good to know what responsibilities come with your role.
COSHH responsibilities of the Employer:
Conducting a COSHH assessment to identify hazardous substances and to determine risks
Implementing control measures to prevent or minimise exposure to hazardous substances
Providing appropriate information, training and supervision to employees
Ensuring the availability of personal protective equipment (PPE) where required, safety data sheets and proper labelling of hazardous substances
Monitor and review control measures regularly to maintain effectiveness
COSHH responsibilities Employees should comply with:
Follow the training provided and adhere to instructions on handling hazardous substances.
Use the provided PPE as instructed and report any concerns.
Coordinate and communicate with employers to ensure safe working practices and COSHH legislations are followed.
Report any incidents or near-misses that occur related to hazardous substances.
Which of the following hazards are covered under COSHH regulations?
COSHH regulations are to be complied with to control exposure to materials in the workplace that result in ill health.
COSHH regulations cover a variety of hazards related to hazardous substances. These include the following:
Chemicals – Corrosive, toxic, flammable or carcinogenic substances.
Dust –  Fine particles that can lead to respiratory issues or irritation of the skin.
Vapours – Gaseous substances that can be harmful when inhaled or absorbed through the skin.
Fumes – Generated by processes which can contain toxic substances.
Biological agents – Bacteria, viruses, fungi or other microorganisms that may pose health risks.
Which hazardous substances does COSHH not cover?
It may surprise you that these substances don't fall into COSHH regulations, even though they can cause harm to health:
Lead
Asbestos
Radioactive substances
These substances have their own specific regulations to comply with.
Learn more on the hazardous substances COSHH doesn't cover.
Does COSHH cover asbestos?
Whilst it does cover a lot of hazardous substances, as mentioned above, it doesn't cover asbestos.
Asbestos is a highly hazardous material known for its health risks and has its own specific regulations to comply with.
To effectively manage asbestos, you must comply with the Control of Asbestos Regulations 2012.
Learn more about the effects of asbestos exposure if you want to gain more understanding.
Overall, COSHH is an essential framework to comply with to ensure the safety and well-being of others. By following COSHH regulations, employers and employees can be aware of and carry out their COSHH responsibilities.
Back to News
View Our Courses