Construction Related Occupation Cards Withdrawal
As of March 2017, Construction Related Occupation (CRO) skills cards will no longer be issued by the CITB/CSCS (Construction Skills Certificate Scheme).
What is a CRO CSCS card?
The CRO CSCS Card was intended for workers who held a "construction-related profession" who needed to get on site but didn't qualify for any other CSCS card.
Construction Related Occupation Card Changes
Any Construction Related Occupation CSCS cards that were issued by CSCS before October 2016 will expire in September 2017. This will result in CSCS  phasing the cards out.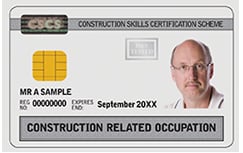 Across the construction industry, there are around 230,000 CRO cardholders. You don't necessarily need a construction-related qualification to hold the card.  You just needed to fall under what CSCS calls a "construction-related" occupation to be able to hold it. Now, this isn't the case.
CSCS recently announced that they now only want certificates for construction-related qualifications to have their logo on. Because the CRO card does not allow the holder to demonstrate that they have recognised qualifications it no longer meets the requirements of the Construction Leadership Council (CLC).
What do Construction Related Occupation cardholders need to do?
CRO cardholders will have to apply for an alternative CSCS card. This is only if their job requires them to work on-site. The alternative card they can apply for will depend on their current qualifications. It will also apply if CSCS class their job role as construction-related. CSCS will no longer require you to have a CSCS card if you work in a non-construction-related job.
The CSCS provides an online card finder system. It will help CRO cardholders know what actions they need to take next and what card is suitable for their occupation.
All construction-related occupation's that were removed can be found here.
Alternatively, CSCS will move cardholders over to CSCS's Partner Card Scheme. They will move to qualifications more suitable to their occupation; such as CPCS or NPORS for plant operations, CIRS for Scaffolders or PAL for powered access platforms.
The purpose of the change is to ensure that the industry has a fully qualified workforce; with workers who hold nationally recognised qualifications.
If you're a CRO cardholder and have any questions relating to what you need to do please contact your local 3B Training centre.
What do non-construction related occupations need to do to get on-site?
CSCS will not qualify you with a CSCS card if you hold a non-CRO job role. It is now in the hands of the Site Manager to decide whether a non-construction individual is qualified enough to get on site. If the Site Manager allows these individuals on-site they will need to induct them and escort them properly.
Which CSCS Card Should I Apply For?
Take a look at how you get the different types of CSCS cards and if they are right for you here.
Back to News
View Our Courses