DIY and Gardening Health and Safety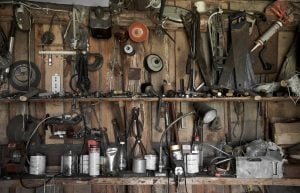 We all do a bit of DIY or work in the garden at some point in the year.  Although we think we are capable of DIY, without the relevant knowledge or skill in the activity you are doing you are prone to an accident.
DIY Safety Tips
Take a look at the safety measures you can take when doing DIY in order to avoid a potentially fatal accident.
Over-ambition
Over-ambition is one of the biggest causes of accidents, it is important to be realistic with what you think you can do yourself. Don't try and do a job that is beyond your ability – get a trained person to do it for you. Especially the likes of utilities work such as gas and electric repairs.
Safety Checks
It is also important to be careful and methodical with potentially dangerous jobs. Don't rush in and risk assess the task before completing it. Check your equipment thoroughly; make sure it is clean and isn't damaged. If you aren't confident in how a tool or product works, make sure you read the instructions before use. Always use the right tool for the job to avoid risking your safety.
Wear Your PPE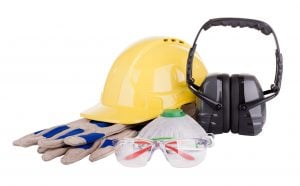 For some tools, you may be required to wear PPE. Make sure you wear the relevant Eye and Face protection when you are using a saw or drill or working with anything that may splash and be harmful to your eyes. Wear gloves or gauntlets in order to protect your body and clothing and aprons if necessary. Earplugs may be required if you are using loud tools and hair shout be protected just in case of encounters any of the tools. If you are mowing the lawn; you should protect your feet with sturdy shoes and ensure you keep well away from the blades.
Painting Safely
When painting you need to keep the room well ventilated to remove the toxic fumes. Don't stay in a painted room longer than you need to and don't smoke near flammable paint.
Using a Ladder Safely
Ladder falls are a huge contributor to accidents in the home. People use them without knowing what they are doing or how to work safely. Follow the manufacturer's instructions carefully and avoid leaning whilst working.
Gardening Health and Safety Tips
Take a look at the safety measures you can take when working in the garden in order to look after your health and safety.
Gardening Safety Equipment
Make sure you have dressed appropriately before getting your fingers green. You need to protect yourself from sharp equipment, chemicals, pests and the sun.
Wear sturdy shoes, long pants and safety goggles when using gardening tools and equipment.
Make sure you wear ear protection when using loud machinery.
Gloves will help to protect your hands from cuts and skin irritations.
Insect repellant is a great way to protect yourself from harmful ticks and mosquitos. You may also want to tuck your clothes in and wear high boots.
Make sure you regularly apply sun cream when working outside even if it isn't sunny. This is were wearing plenty of clothing can also protect you.
Using Garden Tools & Chemicals Safely
Avoid causing injury through getting distracted when using tools, the likelihood off a serious injury due to negligence is very high.
Follow instructions carefully on chemicals and equipment.
Thoroughly check your equipment before beginning to use it.
Keep your equipment well out of the reach of children.
Asbestos in Your Garden
Old garden structures such as sheds are made from asbestos cement. If you fee that this may be an issue in your garden be sure to alert the local council.
If you have any more questions about asbestos visit the HSE's FAQ page here.
Barbecue Safety
Be aware when barbequing where you position your barbeque. Keep it well away from fences, garden furniture, buildings and trees.
Clean your grill regularly to avoid grease fires.
If you have a gas barbecue make sure you check it for wear and tear. A gas leak could be very dangerous.
Keep a fire extinguisher within a few yards of your barbecue.
 Never leave the grill unattended or use it indoors.
Fire Prevention in the Home
For more information on how to stay safe at home, why not read our blog on Fire Prevention in the Home.
Back to News
View Our Courses