Are your Safety Signs Effective and Legal?
All safety signs in the workplace must follow a particular shape and colour in order to express a certain message.
Take a look at our guide to make sure that you are meeting the relevant legal duties with your safety signs.
What are safety signs and signals?
Every employee must know the potential hazards they could face in their occupation. They need safety signs in order to know how to react in the event of an emergency and what they need to do to avoid them in the future. There are five different types of safety sign. Below are the required standard formats for signs so that the message of each sign is easily and quickly understood (see below).
Warning Sign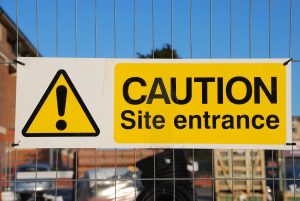 A sign that alerts you to possible dangers to guard against. The shape must be a yellow triangle with a black border. Any text or images must also be black on a yellow panel.
Mandatory Sign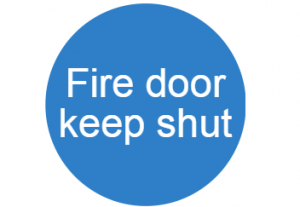 A sign to display actions you must take to keep yourself safe. The shape must be a blue circle with white images or wording.
Prohibition Sign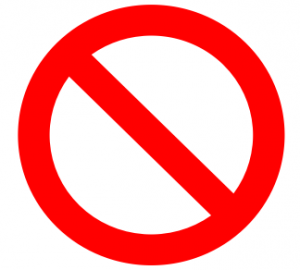 A sign to display actions you must avoid. The sign must a circle with black on white images. The circle must have a red borderline with a line across. Any wording must be white text on a red panel.
Safe Condition Sign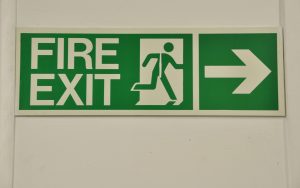 This sign contains information relating to emergency action and must be a rectangle.  The symbol must be green with white wording or images.
Fire Equipment Sign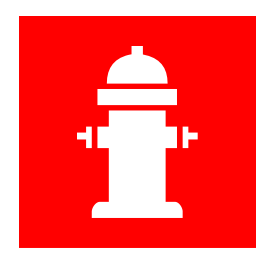 This sign is a red rectangle with white wording or images; it is used to display the location and details of fire equipment. For more on the benefits of fire safety in the workplace take a look here.
When is each sign needed?
To work out when a sign is needed you need to follow the below steps:
Firstly you need to conduct a risk assessment: by doing this you will be able to spot the potential hazards in the workplace and can note the most significant areas in need of a safety sign. When assessing the area you need to consider the likes of flammable atmospheres, electricity and hot surfaces.
Make sure any existing signs are updated and their surrounding areas are reassessed. When doing this also make sure each sign is still relevant so that other important signs are not depreciated. Also make sure all damaged, defaced, discoloured and unclean signs are cleaned or replaced accordingly.
Make sure that you have a control measure put in place with every potential hazard you have spotted. You cannot simply put up a warning sign and not deal with any potential consequences.
You need to make sure each safety sign is paired with a logical sign with a solution. E.g. A "high noise area" would be pair with a "hearing protection must be worn sign".
Finally, make sure you use road signs on entrances and site roads; this will be useful for when you are targeting drivers.
Mini-Audits
To ensure that signs are working get an employee to look at every sign and check that all safety measures are being followed. E.g. make sure that everyone is wearing the correct clothing such as PPE if a sign states so. Make sure that all signs that give directions that actually lead to the relevant area/equipment and all emergency exits lead to safety.
On-Site Job Roles in The Construction Industry
Take a look at what you can potentially earn from on-site job roles in construction here.
Back to News
View Our Courses