Should I choose an IOSH or NEBOSH Qualification?
Are you wondering if you should choose an IOSH or NEBOSH qualification? 
Choosing between the two can be a difficult decision to make. The HSE and employers across the country highly recognise both qualifications. However, we hope to give you all the information you need below to decide which is best for you.
What is NEBOSH?
NEBOSH or the National Examination Board in Occupational Safety and Health is a global awarding body. NEBOSH offers a range of health and safety or risk management training courses for health and safety professionals.
What is IOSH?
IOSH is the Institution of Occupational Safety and Health. It's a global organisation based in the UK that offers professional qualifications to raise workplace health and safety standards.
What is the difference between IOSH and  NEBOSH?
While health and safety professionals will often take IOSH courses; they may also be well suited to anyone who has health and safety responsibilities in the workplace. Its range of courses are aimed at all levels of the business so, in theory, everyone could have an IOSH qualification.
NEBOSH is generally for existing health and safety professionals, who want a high-level professional certification.
IOSH course tends to be shorter in duration (up to 3 days to complete). Whereas, the shortest NEBOSH Certificate takes 10 days plus personal study.
If you are looking at price, IOSH is much cheaper than the NEBOSH Certificate due to NEBOSH's larger duration and more in-depth content.
Certificate expiry isn't applicable with either, however, IOSH does recommend refreshing your knowledge every three years.
IOSH exams take place on the day of the IOSH training. Whereas, NEBOSH exams take place separately on specific days of the year (every 3 months). IOSH Managing Safely® also contains a risk assessment activity.
NEBOSH is structured differently to your standard classroom training course. NEBOSH split the General Certificate into 2 modules; NG1 & NG2. The tutor delivers the modules over separate weeks. After those two modules, delegates will have to complete a written examination, as well as a risk assessment based practical.
Can I become a member of IOSH or NEBOSH?
IOSH offers a membership structure that NEBOSH doesn't. This means that graduates of IOSH accredited courses can gain membership status relevant to their level of expertise in health and safety. Take a look at the IOSH membership categories here.
Should I choose IOSH or NEBOSH?
There is no right or wrong answer. No matter which qualification you choose, they will each improve your workplace skills and increase your health and safety knowledge.
However, what we would recommend is…
NEBOSH for someone who is looking to further their career in health and safety.
IOSH for someone who has some health and safety responsibilities as part of their wider job role.
But which course should I choose?
If you would like to discuss your options with us, contact us here.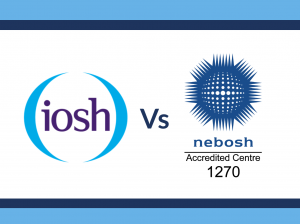 Back to News
View Our Courses