Benefits of ePortfolio NVQs for Employers
We have recently launched Bud, an ePortfolio platform to support the delivery of our NVQ qualifications! It's the perfect platform for employers to view and track the progress of their learners who are completing NVQ qualifications. Take a look at some of the benefits Bud provides below…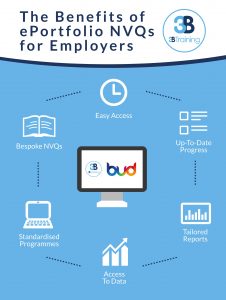 Easy Access for Learners & Employees
3B wants to provide the best possible service to customers. Learners will have access to the Bud ePortfolio platform anywhere, at any time. Employers and Training Managers can view up to date and clear learner progress
Reports
As an employer, you will have access to tailored reports on your learner's progress. You can choose the reports you would like to see, such as learners percentage progress, learners at risk of falling behind and start and end dates.
Data
You will have access to data specific to your organisation. This can help to support your company's learning and development planning. For example, Bud can identify how long it takes for your learners to complete their NVQ and if more employer support is required.
Standardised programmes
7 key NVQs are available on our Bud ePortfolio, with the whole NVQ broken into activities that take place over a recommended time period of around 6 months. If learners want to complete sooner, they can have access to all the activities they need and will be supported by their assessor to complete sooner. If a learner needs to take some time away from their work and NVQ, their progress can be paused.
As an employer, you can also choose to set your own timescales; helping you to plan when you would like learners to start and finish their NVQs.
The start dates of NVQs can be scheduled to suit your business needs. For example, you are able to schedule NVQs across the year. This enables you to choose when your employees need to achieve their NVQ to support CSCS card and membership applications.
Bespoke NVQs
3B can work with you to create a bespoke NVQ programme, just for your employees.
This can contain your preferred methods of assessment, timescales and include your company policies, procedures and guidelines.
Furthermore, you can also develop tailored pathways. This gives you more flexibility to choose optional units which best fit the working role of your employees.
Find out more about our move to the Bud ePortfolio NVQs here.
Back to News
View Our Courses