CAT & Genny Cable Avoidance Training Course
CAT & Genny is a health & safety training course designed to give operatives and supervisors knowledge of how to conduct cable avoidance operations to locate underground services.
Delivered in one day.
Completed in the classroom.
Become knowledgeable of locating underground services.
Practical elements included.
Can be delivered as an in-house course.
CITB Grant Claimable.
Valid for three years.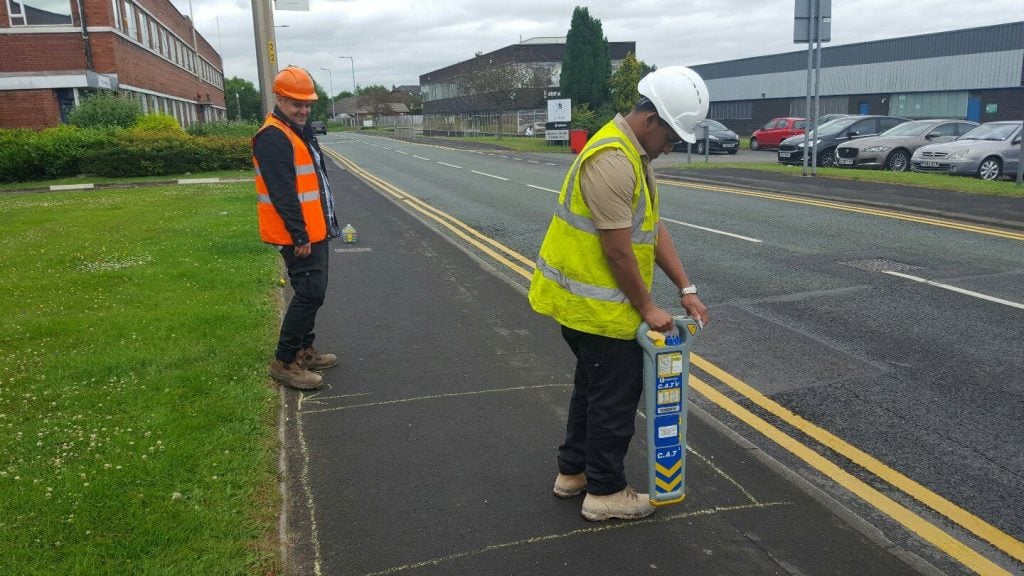 CAT & Genny course content
What is covered in the CAT & Genny course?
The tutor splits the course up into a practical and theory session. The tutor will deliver the theory element in a classroom and will cover a range of PowerPoints, case studies and assignments.
Delegates will have to demonstrate their ability to locate underground services in the practical element of the course. They will have to locate various types of buried services and follow industry best practice. Delegates will also have to show knowledge of current legislation and their ability to follow street plans and observation evidence.
Course Objectives
By the end of the course, the delegate will be able to:
Work in line with guidance from HSG 47 for avoiding danger from underground services
Safely use of a cable detector/pipe detector.
Identify and read gas/electricity/water/telecom service plans.
Identify damaged and undamaged underground services using ground-penetrating radar.
Understand utility services (guidelines)
Locate services using cable avoidance tools
Complete plans showing the services you have detected
Show knowledge of the required PPE.
What is Required to Pass the CAT & Genny course?
Throughout the course, delegates must demonstrate their knowledge and understanding of what they have learned. At the end of the course, delegates must complete a 20-questions multiple-choice assessment.
How long is the CAT & Genny course?
The course contains around four/five hours of theory and practical learning.
Why should I take this course?
Supervisors and Operators who use cable avoidance tools and signals generators in their work should attend this course.
CAT & Genny course entry requirements
3B Training requires the delegate to wear:
Safety footwear
High visibility jacket
Safety helmet
We also suggest they wear waterproofs
Is this course accredited?
Yes, this course is 3B Training accredited.
Where can I complete this course?
The theory aspect of this course is delivered in the classroom. The practical elements are delivered outside of the training venue, in a location containing underground services.
Public Classroom Courses
CAT & Genny / Cable Avoidance public course dates are available in our training venues across the country. Individuals and companies can book on the CAT & Genny courses we have available either over the phone or online through our website. View our upcoming public course dates here.
In-house Courses
CAT & Genny training can also be delivered as an in-house course specifically for your delegates. You can attend the training at one of our training venues or a venue of your choosing. The site will need to have an outdoor location in which we can deliver the practical elements of the training. 3B Training can provide the equipment for the training or we can train the delegates on the equipment you provide. We quote all of our in-house courses on a case by case basis. The price will vary depending on location, equipment needed and delegate numbers. To enquire, fill in our in-house enquiry form on this page.
Further development
On completion of the training, you will receive a certificate around 6-8 weeks after the course. The certificate is valid for three years. Delegates will need to resit the course to renew their certificate.
3B Training will issue the delegates with a certificate on completion of the course. Other qualifications for those who work in utilities include EUSR SHEA Gas Training and NRSWA. Those in a street work role may also benefit in completing the NVQ Level 2 in Construction Operations & Civil Engineering Services as an entry qualification.
Is this course CITB Grant claimable?
Yes, CITB registered companies can claim £70 for each delegate who attends the course. To claim the grant, they must provide their CITB Levy Number and company name on their delegate information form. They must complete the form before the first day of the course.
NEXT AVAILABLE COURSES
Next Available Courses
Manchester - 04 May 2021

£150.00 + VAT 3 PLACES LEFT!

Manchester - 13 May 2021

£150.00 + VAT

Wigan - 19 May 2021

£150.00 + VAT

Doncaster - 21 May 2021

£150.00 + VAT

Manchester - 01 Jun 2021

£150.00 + VAT

Leeds - 04 Jun 2021

£150.00 + VAT

Doncaster - 16 Jun 2021

£150.00 + VAT

Leeds - 16 Jul 2021

£150.00 + VAT

Doncaster - 27 Jul 2021

£150.00 + VAT
Can't see the course date or location you are looking for?
VIEW MORE COURSES