Face Fit Testing Workshop
What can the Face Fit Testing Workshop do for me? Are you 100% certain that the respiratory masks you provide your employees with fits them properly? If they don't, your workforce may be at serious risk. An employee must have his/her RPE tested by a competent person; 3B Training delivers a course that can make you that person.
Who should attend the Face Fit course?
This course is suitable for anyone who needs to be able to deliver face fit testing to employees or co-workers on-site.
Is the Face Fit course accredited?
3B Training accredited
When does my Face Fit Workshop certificate expire?
Three years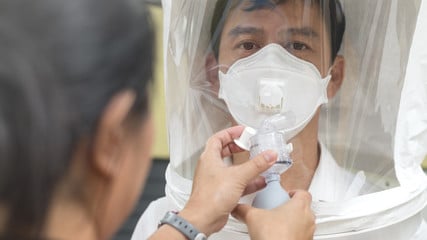 Entry Requirements
Delegates attending must be clean-shaven and bring their own mask to the training.
To attend the Remote Learning course, delegates must have access to a computer or laptop that uses a microphone and webcam.
YOU MUST HAVE A FACE FIT TESTING KIT TO ATTEND THE REMOTE COURSE
You will also need a friend/family member/colleague with you to test on – they can be a delegate on the course or not.
What does the Face Fit Testing Workshop course cover?
3B Training provides a Face Fit workshop- during the workshop, a Fit2Fit accredited instructor will give the attendees an understanding of how to conduct face fit training themselves and gain knowledge on the variations of masks available.
Delivered by a Fit2Fit accredited instructor, the Face Fit Testing Workshop is designed to prepare delegates to be able to carry out Face Fit Tests competently.
Throughout the day, topics covered include:
Health & Safety Law
Types of Respiratory Protective Equipment (RPE) and correct selection
Types of hazardous substances and their health impacts
Why Face Fit Testing matters
How to conduct a Face Fit Test
What is Required to Pass the Face Fit Testing Workshop course?
The delegate must show competence and understanding as they will need to be able to conduct Face Fit Tests themselves correctly.
The delegate will need to successfully demonstrate a Face Fit Test and complete a written assessment. Once they have completed the above, the tutor will deem the delegates prepared to conduct Face Fit Tests.
Further Development
If you need your own mask fitting, you may want to attend a Face Fit Test with 3B Training.
NEXT AVAILABLE COURSES
Next Available Courses
Online Learning - 26 Apr 2021

£160.00 + VAT 1 PLACE LEFT!

Wigan - 07 May 2021

£160.00 + VAT

Manchester - 14 May 2021

£160.00 + VAT
Can't see the course date or location you are looking for?
VIEW MORE COURSES