Face Fit Testing Workshop
Face Fit Testing Workshop, what can it do for me? Are you 100% certain that the respiratory masks you provide your employees with fits them properly? If they don't, your workforce may be at serious risk. An employee must have his/her RPE tested by a competent person; 3B Training delivers a course that can make you that person.
Trained by a Fit2Fit accredited instructor
Learn how to Face Fit Test your workers
Delivered over one day
Course completed in the classroom
Keep your workers protected from hazardous substances
CITB Grant Claimable
Valid for three years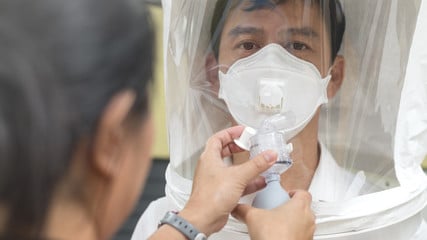 Face Fit Testing Workshop course content
During the workshop, a Fit2Fit accredited instructor will understand how to conduct face fit training yourself and knowledge on the variations of masks available.
Throughout the day, you will learn:
Health & safety law
Types of Respiratory Protective Equipment (RPE) and correct selection
Types of hazardous substances and their health impacts
Why Face Fit Testing matters
How to conduct a Face Fit Test
Assessment.
You must show competence and understanding as you will need to conduct Face Fit Tests yourself correctly.
You must successfully demonstrate a Face Fit Test and complete a written assessment. Once you have completed the above, the tutor will deem you prepared to conduct a Face Fit Test.
How long is a Face Fit Testing Workshop
We deliver the course over one day.
The tutor splits the course into half theory, half practical learning. As a result, you will gain all you need to know in just one day of training.
Why should I attend this course?
This course is suitable for anyone who needs to deliver face fit testing to employees or co-workers on-site.
The qualification that you gain will give you the skills to safeguard your workers' health. Face fit testing will help to protect them from the airborne hazardous substances that they would otherwise inhale. Inhaling these substances could lead to serious long term ill-health and even death.
By face fitting at your organisation, you are also following the law. Anybody who wears a closefitting mask for their work must legally attend a face fit test.
A significant benefit of being able to deliver face fit tests is the costs to your organisation. Rather than paying for all of your employees to regularly attend face fit tests, you can provide the testing internally yourself.
Face Fit Testing Workshop entry requirements
To attend the course, you must be clean-shaven and bring your mask to the training.
Is this course accredited?
3B Training accredits this course.
We continually develop our training courses with our internal Fit2Fit accredited individuals involved so that you get the best possible training course.
Where can I complete this course?
This course is completed in a classromm.
Public Classroom Courses
Classroom-based Face Fit Testing Workshops are available to attend nationwide. The course is delivered in a classroom by a Fit2Fit accredited tutor.
We have multiple dates available to book online throughout the year. To book one or more places on a workshop, you can either select a course and book directly online or speak to the team over the phone.
In-house Courses
We can also arrange for the Face Fit Testing Workshop as an in-house course specifically for your company. This format is perfect if you have many individuals who need to conduct face fit testing in your organisation. In-house training is a popular option for larger clients as it can be delivered on-site, and you can interact and discuss company-specific examples during the training. Bespoke courses are priced on a case by case basis depending on the location, delivery method, the number of kits required and the number of delegates. Complete the training enquiry form on this page, and one of the team will be in touch to provide a quote.
Further Development
On completion of the course, you will receive a certificate which is valid for three years. After that, to maintain your qualification, you must attend the course again.
You also have the option to purchase a Face Fit Testing Kit. If you would like to buy a kit, fill in the form on this page for more information.
If you need your own mask fitting, you may want to attend a Face Fit Test with 3B Training. By having yourself tested, you lead by example and create a positive culture within your organisation regarding RPE.
Is this course CITB Grant claimable?
Yes, companies who are CITB registered can claim £70 for each delegate who successfully pass this course.
For the grant to be claimed, you must include the company name and CITB levy number on the delegates information form, which is completed before or on the first day of the course.
NEXT AVAILABLE COURSES
Next Available Courses
Face Fit Testing Workshop

Blackburn - 04 Nov 2022

£182 + VAT

Face Fit Testing Workshop

Doncaster - 16 Nov 2022

£182 + VAT

Face Fit Testing Workshop

Blackburn - 02 Dec 2022

£182 + VAT

Face Fit Testing Workshop

Doncaster - 20 Jan 2023

£182 + VAT

Face Fit Testing Workshop

Doncaster - 17 Apr 2023

£182 + VAT

Face Fit Testing Workshop

Doncaster - 17 Jul 2023

£182 + VAT

Face Fit Testing Workshop

Doncaster - 12 Oct 2023

£182 + VAT
Can't see the course date or location you are looking for?
VIEW MORE COURSES