CAT & Genny – What are they used for?
Underground services can be a major hazard for construction workers.
Take a look at how the CAT & Genny are used to help avoid them.
What is a CAT and why is it used?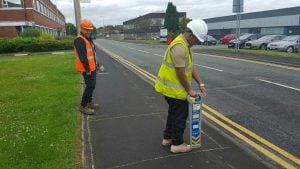 The CAT (Cable Avoidance Tool) is used to locate cables on groundwork, excavation and construction sites. The CAT detects underground cables so that they can be avoided. During excavations, if a pipe, cable or any other buried service is damaged; it can also result in injury, delays in work and repair costs. This highlights the importance of using the Cable Avoidance Tool.
How does the CAT & Genny work?
The CAT is powered by the Genny or Signal Generator to detect signals from metal services that naturally radiate from them. The CAT has three modes to help it detect underground services:
Power (P)
In this mode, the CAT cannot detect signals from loaded cables otherwise known as "power" signals". The Power mode is used to avoid, detect and locate underground electricity cables.
Radio (R)
The Radio allows the CAT to detect VLF radio signals that are re-radiated by metal cables and pipes. In this mode, you will be able to avoid, locate and detect metal pipes and cables used for telephone lines, gas and water.
Genny (Signal Generator) (G)
The Genny mode allows the Cat to detect radiated tone from the Genny to a conductor that is buried. This mode is used to avoid, locate and detect water valves or plug sockets that would have a direct connection to its source.
Would you like to learn more about CAT & Genny and how to use them? 3B Training delivers the CAT & Genny course as an open course in our venues nationwide. We can also deliver the course on an in-house basis for up to 4 delegates or more.
To view our upcoming open course dates click here or contact us here to arrange an in-house course at one of our centres or a centre of your choice.
What is an EUSR Card?
Take a look at what the EUSR card is used for and who it is relevant to in the construction & utility industries here.
Back to News
View Our Courses