EUSR Card: Frequently Asked Questions
As an EUSR (Energy and Utilities Skills Register) accredited training provider, we deliver courses that allow delegates to obtain the EUSR card on completion.
Take a look at some frequently asked questions about EUSR cards…
What is EUSR?
EUSR stands for Energy and Utility Skills Register, which is the online register of training for the utilities and energy industries.
What is an EUSR card? 
Those who work with water, power and gas will require an EUSR card. They are what utility workers have as an alternative to Construction Skills Certification Scheme (CSCS) cards.
Like the CSCS card, the EUSR card grants you access to construction sites, but only as a utility worker. This enables skilled workers to carry out their roles.
On completion of any of our EUSR courses, you will receive a digital card which is included as standard. If you would like a physical card, this can be added at an extra cost.
Find out more information about the EUSR card.
How long is an EUSR card valid for?
If you complete our EUSR SHEA Gas training course, this will be valid for five years before needing to refresh your knowledge by completing the course again. This is a one day course suitable for those who need the EUSR card to get on site.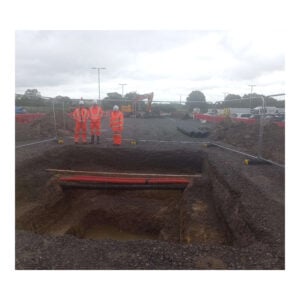 If you complete any of the EUSR Excavation Safety training categories below, each category will expire after 3 years from the date you passed the course and will need to complete an EUSR Refresher for the categories relevant to you.
To do an EUSR card check and verify someone's skills and training record for the EUSR scheme and programmes, you can use the EUSR Register.
How do I find my EUSR number?
You can find your EUSR ID Number on the front of your card. Here you can also find other information such as the cardholders photograph and their first and last name.
Is an EUSR card a CSCS card?
Both the EUSR and CSCS grant you access to a construction site. However, the EUSR card only allows you to carry out your role as a utility worker.  Whereas, the CSCS card is for those who need to carry out their role as a construction worker.
CSCS cards are valid for five years, whereas EUSR cards can be valid from three to five years depending on the courses you complete.
What is the EUSR course cost?
EUSR course prices vary depending on which of our courses you are choosing.
We offer the EUSR SHEA Gas training course as an online public course with dates available to book online from £194 per delegate. View upcoming dates on our 'Find a Course' page.  This can also be organised as an in-house course for a group of employees.
Our EUSR accredited Excavation Safety training courses are delivered in-house at a venue of your choice. Enquiries are quoted on a case by case basis. Prices will vary depending on the number of delegates, equipment needed and location.
We do also offer a 3B accredited version of the CAT & Genny training course which we have public dates available for.
Back to News
View Our Courses