Become a Health and Safety Advisor
At 3B Training, we deliver training courses suitable for those on their journey to becoming a Health and Safety Advisor, as well as for those who are looking to upskill…
What is a Health and Safety Advisor?
It's someone who has the responsibility to reduce workplace accidents, injuries and ill health.
What is the role of a Health and Safety Advisor?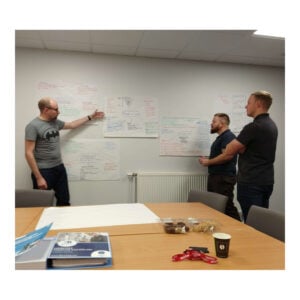 The role of a Health and Safety Advisor is to put policies and procedures in place to prevent themselves and others from getting harmed.
This is usually done by investigating (assessing areas and completing risk assessments).
Health and Safety Advisors are also responsible for reporting accidents and completing an accident form or any other post-injury procedures.
They may also do other tasks such as ensuring the correct protective equipment is provided or organising talks and training for employees.
For more information on the legal duties when managing health and safety, visit the Health and Safety Executive website.
How to become a Health and Safety Advisor?
If you want to pursue a career in health and safety, there are a few possible routes to go down. It is usually down to the individual and their learning. Each of the below routes is a way of starting your journey…
An apprenticeship
A university course
Training through a professional body
3B Training is an accredited training provider for the Institution of Occupational Safety and Health (IOSH, National Examination Board in Occupational Safety and Health (NEBOSH) and ProQual.
It is important to be competent in your role and training through a professional body will ensure that the learner will have up to date, industry-standard knowledge to apply to the working environment.
The types of training courses and NVQs we offer that will support your application for this role include…
As for NEBOSH Health and Safety Management for Construction, this course is suitable for those specifically working in the construction industry. Whereas, you can apply NEBOSH General Certificate to any industry.
We offer IOSH and NEBOSH training as public and in-house courses.
Our Occupational Health and Safety NVQs are available to complete nationwide, as they can be assessed remotely. So, as long as we do not need to do any on-site assessments, your location doesn't matter.
How much does a Health and Safety Advisor earn?
There are many different jobs in a variety of industries and the annual income for a Health and Safety Advisor role will depend on factors such as the level of experience you have.
According to the National Careers Service on the UK Gov website, Health and Safety Advisors can expect to receive a starting salary of £22,000 annually, increasing as they become more experienced.
The potential maximum number of earrings for a Health and Safety Advisor salary is £50,000.
IOSH Accredited Courses: FAQs
Take a look at some IOSH Frequently Asked Questions in our recent blog.
Back to News
View Our Courses