First Aid Requirements for Construction Sites
Do you know the first-aid requirements for your construction site? The construction & civil engineering industry is a high-risk industry, so awareness of your site's first aid procedures is vital.
What are the first aid requirements for construction sites?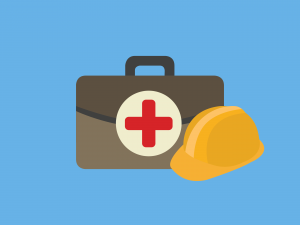 The mandatory first aid requirements for a construction site are covered in The Health and Safety (First Aid) Regulations 1981. The appointed person must provide and stock a first aid box with sufficient supplies to cater to the number of workers on site.
An appointed person must be on-site at all times; this is why you need to have multiple workers trained in first aid. Information on who the appointed persons on site and where to find them needs to be displayed on-site. Display this in a communal area such as the site hut.
What are the requirements for first aiders on a construction site?
The HSE requires at least one appointed person on a site with fewer than five people.
If between 5-50 people work on the site, there needs to be at least one first aider trained in Emergency First Aid or First Aid at Work. The level of first aid course needed will depend on the types of injury that could occur on the site.
If the site has more than 50 people working on it, there needs to be one first aider trained in  First Aid at Work, for every 50 people (or part of 50 people).
What is an appointed person?
The appointed person is an individual who manages the first aid facilities and equipment on-site. They will also call the emergency services when required. An appointed person does not need to be first aid trained, but they are permitted to provide cover if a first aider is unexpectedly unavailable.
What is a first aider?
A first aider is an individual who has attended first aid training and has gained an HSE approved qualification. A first aider will hold a certificate showing that they are competent in either Emergency First Aid or First Aid at Work by an approved training organisation. 3B Training uses Highfield Qualifications as its approved training organisation.
Back to News
View Our Courses