Low Risk Halloween Activities During a Pandemic
Halloween is definitely going to be different this year. It's important to take care of yourself and your family during these times by doing low-risk Halloween activities.
The usual Halloween activities are too high risk to do this year during the pandemic. Anything that involves contact with other people automatically increases their risk and your risk of COVID-19.
So, take a look below at what low-risk activities you can do with your family this Halloween…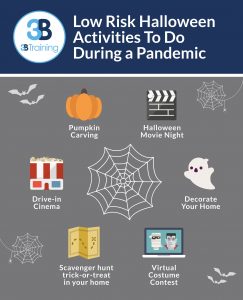 Pumpkin carving
Why not go pumpkin picking with your family at a pumpkin patch near you? You will be in an open outdoor space which is perfect for social distancing. Then, you can carve and decorate pumpkins to put out on your doorstep or in the window.
Movie night
Pick out your favourite Halloween films and get some spooky snacks at the ready for a film night with your household. You can dress up, make chocolate or toffee coated apples and even put together your own bags of sweets for the children.
Decorate your home
Maybe go the extra mile with decorations this year so it still feels like Halloween besides not being able to do the usual Halloween activities. You could get the children to make their own crafts and decorations whilst trick or treating isn't a safe option during the pandemic.
Virtual costume contest
Video calls have definitely become the new norm this year. So, why not have a virtual Halloween costume contest and plan a Halloween themed quiz to do with your friends and family?
Scavenger hunt trick-or-treat in your home
Organise a scavenger hunt for your household by creating a list of Halloween items to look for in your home or garden.
Go to a drive-in cinema
If there are any drive-in cinemas local to you then that is definitely ideal for this year. You can have fun watching Halloween films with your household in your car which is perfect for social distancing and preventing the spread of coronavirus.
Staying safe
Safety is at the heart of 3B Training do. So, these low-risk activities are perfect ideas for you and your family to still have fun on Halloween whilst staying safe from COVID-19.
It's also very important to keep on doing what you're doing by avoiding large gatherings, wearing face coverings, distancing yourself from others and regularly washing your hands.
It may not be the usual Halloween this year but look at it as a chance to get creative. These low-risk activities may potentially become new traditions for you and your family! It's also a perfect time to reinforce to children why it's so important for them to protect not only themselves but others too.
Bonfire Night: Looking After Your Pet
Bonfire Night isn't far away and like Halloween, it's going to be different compared to every other year. Take a look at some helpful tips on keeping your furry friends happy here.
Back to News
View Our Courses